John Minihan Photographic Exhibition
16 to 26 June, The Ron Cooke Hub, University of York
The Irish photographer John Minihan photographed Beckett many times in Paris and London, capturing moments that have become iconic images of twentieth-century culture. Minihan's friendship with Beckett certainly produced some of the most memorable photographs ever taken of the writer. He is credited by Beckett's friend and publisher, John Calder, with capturing 'the introspective, infinitely sad gaze of a man looking into the abyss of the world's woes'. This exhibition will highlight a selection of these beautiful images, focusing mainly on stage productions of Beckett's work.
All the photographs at the exhibition are available for purchase during the exhibition period. Each framed photograph, from an original negative by Exhibit A Studio Dublin, will be stamped and signed by John Minihan.
Admission information

Entrance to the exhibition is open to all and free-of-charge. No tickets are required.

Opening hours: 9.30am to 5.30pm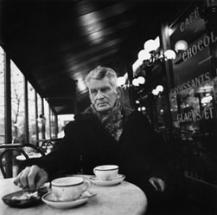 More details

This event is part of the Samuel Beckett International Conference and Festival taking place at the University from 22 to 26 June. Further information on the Festival is available at www.outofthearchive.com
A full programme of events is taking place as part of the Festival of Ideas.