Beeching 50 years on, the man who reshaped Britain's Railways
13 - 16 June, National Railway Museum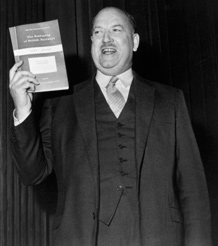 50 years ago Dr Richard Beeching wrote his revolutionary report, The Reshaping of British Railways. The report set in motion a radical restructuring of Britain's railways that changed the face of rail transport. On the advice of his report many smaller railway lines were closed and Dr Beeching became the despised face of the cuts.
The closures had a huge impact nationally but their effect was often felt locally and personally. At the time protest groups demonstrated against the cuts in their area and even today many people feel the loss of their local line and numerous campaigns call for lines to be reopened.

To mark the 50th anniversary of these momentous changes the National Railway Museum has commissioned a work by artist filmmaker Esther Johnson which provides a close-up of one of these local stories, the Waverley line which ran between Carlisle and Edinburgh. The film premiers as part of the exhibition Beeching 50 years on: the man who reshaped Britain's Railways, which explores the social impact of Beeching's report through archive material from the national collection.
Opening times: 10am to 6pm, daily
Admission: Free, no booking required