Skip to Content
Accessibility statement
Goalball Taster Session

Wheelchair accessible.
Event details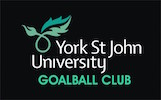 Goalball is a Paralympic Sport primarily for people with visual impairments. However, anyone can play, as each player wears blackout out shades. The game is played indoors 3 v 3. The aim of the game is to bowl the ball into the opposition goal. The defending team attempt to block the ball by listening to bells in the ball so they know where the ball is traveling.
Please click on the video to view all the positive aspects of the game.
Join Martin Bond for an opportunity to try out a new sport and ask to questions to the players and coaches questions.
York St John University Goalball Club
Find out more about York St John University Goalball Club on Twitter and Facebook.
You may also like...

This event is part of the Science out of the Lab festival theme. Also in this theme:
Festival tweets