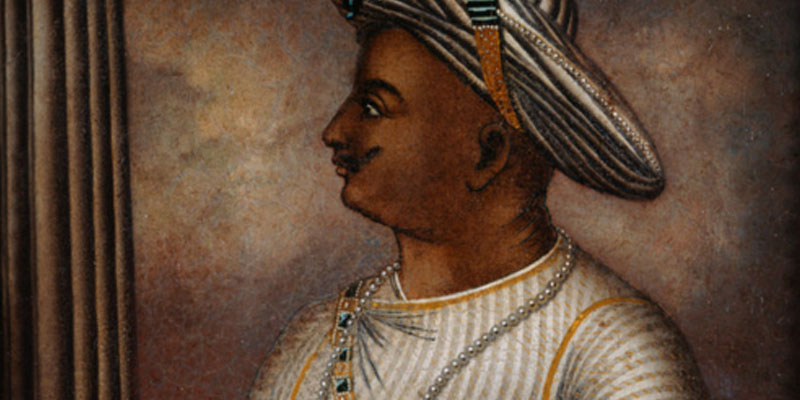 Tipu Sultan and the Arts of the Book Ursula Sims-Williams
This event has now finished.
Date and time:

Tuesday 11 June 2019, 6.30pm to 7.30pm

Location:

The Treehouse, Berrick Saul Building, Campus West, University of York (Map)

Audience:

Open to the public

Admission:

Free admission, booking required
Event details
Tipu Sultan of Mysore is one of the most colourful characters in the history of South Asia. On the one hand he is often castigated as a fanatic Muslim and brutal ruler, but at the same time he is regarded by many as a martyr whose wars against the British foreshadowed the historic uprising of 1857 by around 50 years.
British Library Lead Curator Ursula Sims-Williams' current research focuses on Tipu Sultan's Library collection, which was estimated at the fall of Seringapatam in 1799 to consist of about 2000 volumes. Of these the British Library holds some 600 manuscripts while others are in the Asiatic Society, Calcutta and scattered around the world.
The only published study of the collection has been Charles Stewart's A Descriptive Catalogue of the Oriental Library of the late Tippoo Sultan of Mysore, published in 1809. However, with the discovery of additional sources in the India Office Records and with an examination of the volumes themselves much additional information can be gleaned. Join Ursula for a more nuanced interpretation of this charismatic figure.
Ursula's talk is part of a series of events organised by the York Islamic Art Circle, a collaboration between the University of York's Islamic Society and Department of History of Art.
Image credit: British Library
About the speaker
Ursula Sims-Williams is Lead Curator, Persian collections, at the British Library whose specialisms are in Pre-Islamic Iran and Central Asia, Zoroastrianism and Mughal India. She is the Library representative on the Middle East Libraries Committee and other professional bodies, a Trustee of the Ancient India & Iran Trust, Cambridge and an Affiliated Researcher of the Faculty of Asian and Middle Eastern Studies, University of Cambridge.
Currently Ursula is in charge of a project to provide Digital Access to the Library's collection of over 12,000 Persian manuscripts. She has curated a number of exhibitions, most recently Mughal India: Art, Culture and Empire, British Library, 2012-2013, The Everlasting Flame: Zoroastrianism in History and Imagination, Brunei Gallery SOAS, 2013 and an expanded Everlasting Flame exhibited in collaboration with SOAS and the National Museum, New Delhi, 2016.
Partners