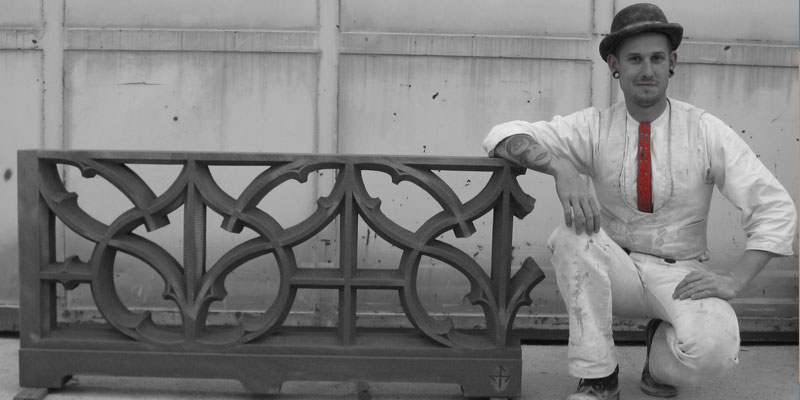 My Journeyman Years: A living tradition from a German perspective David Switalla
This event has now finished.
Date and time:

Monday 10 June 2019, 6.30pm to 7.30pm

Location:

All Saints, Pavement (Map)

Audience:

Open to the public

Admission:

Free admission, booking required
Event details
Three and a half years travelling and not allowed closer than 31 miles to home. No mobile. Everything he owned and needed with him.
David Switalla travelled to many places, met many good people and worked in countless companies. Then he went back home. These are the traditional German journeyman years.
In Medieval times, craftspeople had to go on the journey once they had finished their apprenticeship in order to be allowed to become a Master of their craft. Or else they were sent away by the powerful trade guilds and local Masters due to a limit on the numbers of certain craftspeople in their area.
In his years as a journeyman, David learned a lot: new skills in masonry and other crafts he came across; a lot about cities, towns and places he'd never been before; and, most of all, life skills.
Join David and learn about the still existing and ongoing tradition of the German journeyman years. Learn how it works these days and how it worked in the past. Discover how you survive without a mobile phone for at least three years and one day…
Please call 01904 324119 for details on wheelchair access.
About the speaker
David Switalla was born in Viersen, Germany and worked as an apprentice stone mason in Neu-Ulm, Germany from 2005 to 2008. In September 2009 he embarked on his travels as a journeyman, working in Switzerland and Germany, and becoming a Mastermason and a state certified technical engineer for stone. Since 2016 he has worked for Matthias Garn in York.
Partners