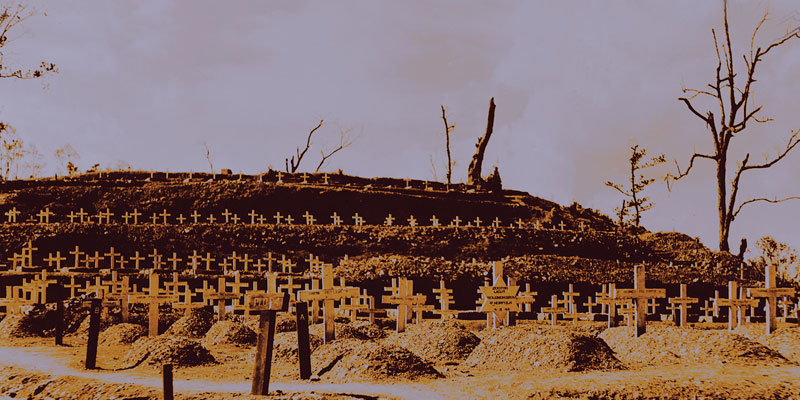 Kohima: Britain's Greatest Battle 75 years on James Holland and Robert Lyman
This event has now finished.
Date and time:

Wednesday 3 July 2019, 7pm to 8.30pm

Location:

Holbeck Cinema, Theatre, Film and Television Building, Campus East, University of York (Map)

Audience:

Open to the public

Admission:

£5, booking required
Event details
This year marks the 75th anniversary of the Battle of Kohima. Fought over three months from April to June 1944 around the towns of Imphal and Kohima in North-East India, these two battles marked a turning point in the Second World War. A garrison of 1500 men defended Kohima against a Japanese Division, reinforced by the British 2nd Division after holding out for two weeks.
Kohima is thus entwined with the history of York as the 2nd Division was then based in York and there is a memorial in the Dean's Garden at York Minster:
"When you go home
Tell them of us, and say
For your tomorrow
We gave our today "
In 2013, Kohima was voted Britain's greatest battle in a contest organised by the National Army Museum. Kohima's victory over higher profile battles (D-Day, Waterloo, Agincourt) is testament to its critical importance in turning the tide of the war in South Asia.
Military historians James Holland and Robert Lyman will explain why great things were at stake in a war with the toughest enemy any British army has had to fight. If Lieutenant General William Slim's army of British, Indian, Gurkha and African troops had lost, the consequences for the allied cause would have been catastrophic.
Join James and Robert as they show and discuss extracts from the film Imphal and Kohima: Britain's Greatest Battle and learn about an an important event in British history in which York played a leading role.
Rob will also talk about the Kohima Educational Trust which was founded 15 years ago by veterans of the battle together with serving members of the 2nd Division whose home was in the Imphal Barracks in York.
Tickets are also available from the Kohima Educational Trust.
About the speakers
James Holland is an historian, writer, and broadcaster. The author of a number of best-selling histories including Battle of Britain, Dam Busters, and most recently, Burma '44, he has also written nine works of historical fiction, including the Jack Tanner novels.
He is currently writing an acclaimed three-volume new history of the Second World War in the West. He has presented and written a large number of television programmes and series, for the BBC, Channel, 4, National Geographic, History and Discovery. He is also co-founder of the Chalke Valley History Festival and co-founder of WarGen.org, an online Second World War resource site, and presents the Chalke Valley History Hit podcast.
Dr Robert Lyman is an historian who has written 15 books, three of them about the war in the Far East, including a military biography of Field Marshal Bill Slim, the subject of his PhD. He was commissioned into the Light Infantry from the Royal Military Academy, Sandhurst in April 1982 and was an officer in the British Army for 20 years.
Robert has been a trustee of the Kohima Educational Trust since 2004 and Chairman for seven years. He was the historian for the BBC's VJ Day commemorations in 2015, won the National Army debate in 2011 for 'Britain's Greatest Battle' and the same debate in 2013 for 'Britain's Greatest General' (Bill Slim).
The Kohima Educational Trust
The Kohima Educational Trust was founded in 2003 by British veterans of the Battle of Kohima in 1944. The Trust is devoted to honouring the people of Nagaland through educational activities.
WAR*MEMORY*GRATITUDE
Partners