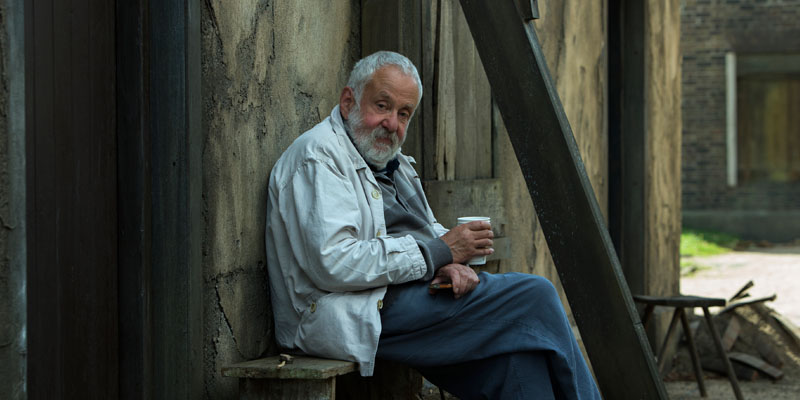 Peterloo: Mike Leigh in conversation Mike Leigh and Jon Mee
This event has now finished.
Date and time:

Sunday 9 June 2019, 4pm to 5pm

Location:

Piazza Building, Campus East, University of York (Map)

Audience:

Open to the public

Admission:

Free admission, booking required
Event details
In his epic film Peterloo, internationally-acclaimed and Oscar-nominated filmmaker Mike Leigh portrays a bloody episode in British history - the infamous Peterloo Massacre.
Join Mike as he discusses the film and its making with Jon Mee of the University of York.
On 16 August 1819, government-backed cavalry charged into a peaceful crowd gathered in Manchester to demand democratic reform, killing 18 people and injuring hundreds more.
The crowd of at least 60,000, many in their Sunday best, had gathered in the name of liberty and freedom. Tragic as they were, the events gave fresh impetus to the hopes of radicals and reformers to better the conditions of the working classes. Many historians now acknowledge Peterloo as hugely influential in ordinary people winning the right to vote and credit it with leading to the rise of the Chartist Movement, from which the Trade Unions grew.
Why not watch our special screening of the film Peterloo before Mike's talk? You may also enjoy Beer and Ballads on Wednesday 5 June when we recreate the convivial atmosphere of the radical meetings of the early 19th centry.
Travelling to the event
Public transport is the easiest way to travel to the University of York campus with frequent bus services from the city centre. If travelling by car to Campus East (Piazza Building and the Ron Cooke Hub), please use the Field Lane and Kimberlow Lane car parks. Maps and directions are available at york.ac.uk/maps.
About the speakers
Mike Leigh, OBE, FRSL, is an award-winning writer/director and dramatist, renowned for his unique working method, which combines the processes of writing, rehearsing and shooting. After his debut Bleak Moments (1971) he made a succession of admired TV films, including Abigail's Party, Nuts in May and Meantime. He then returned to feature films: High Hopes (1988), Life is Sweet (1990), and Naked (1993). In 1996 Secrets and Lies won the Palme d'Or at Cannes, and his following film, Topsy-Turvy (1999), won two Oscars. After All or Nothing (2002), Vera Drake (2004) won the Golden Lion in Venice and began a run of four Oscar-nominated films back-to-back, including Happy-Go-Lucky (2008), Another Year (2010) and Mr Turner (2014). His most recent plays are Two Thousand Years and Grief.
Jon Mee is a Professor of Eighteenth-Century Studies in the Department of English and Related Literature at the University of York and formerly Director of the University's Centre for Eighteenth Century Studies. His most recent book is Print, Publicity, and Popular Radicalism in the 1790s: The Laurel of Liberty (Cambridge University Press, 2016). He is currently writing on materialism and machines in the new industrial cities of the industrial revolution, 1780-1840.
Centre for Eighteenth Century Studies, University of York
In the 15 years since its foundation, the Centre for Eighteenth Century Studies has come to be recognised as a leading centre in the English-speaking world for interdisciplinary research in the eighteenth century. Its research seminars, held five or six times a term, attract visiting speakers from Europe and North America as well as from Britain, as do its frequent international conferences and one-day symposia. Blog: cecscoffeehouse.wordpress.com/; Twitter: twitter.com/CECSYork
Partners