York Professor joins historical consultant to launch Mike Leigh's Peterloo movie
Posted on 22 October 2018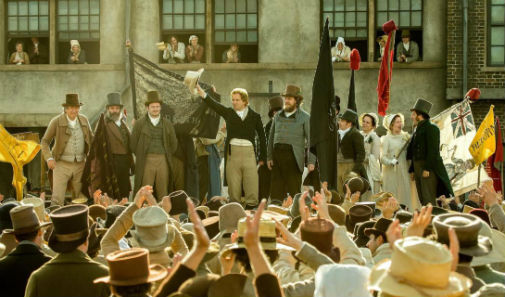 Dr Jacqueline Riding is historical consultant to the film
Jon Mee, Professor of Eighteenth-Century Studies at the University will talk to Dr Jacqueline Riding, historical consultant to the film and a University of York graduate in Art History, following the movie's debut at York City Screen on the 3 November.
Dr Riding was also historical consultant for Mike Leigh's award-winning Mr. Turner in 2014 and this year's Colette staring Keira Knightly. Professor Mee will be speaking to her about the importance of historical advisors to movies that depict real-life events and will take questions from audience members.
The movie recounts the events of a peaceful protest for parliamentary reform in Manchester, 1819, where 15 people were killed and 650 injured after cavalry forces attacked the crowd.
Battle of Waterloo
Professor Mee said: "This was a significant moment in British history; it was only four years after the British had defeated Napolean Bonaparte at Waterloo, and yet here were military forces turning on its own people for expressing their political views in public.
"The pressures of poor economic conditions, hunger, and unemployment, drove communities to fight for radical political reform, but what was supposed to be a peaceful protest and an opportunity to hear from radical reformist Henry Hunt, turned into a massacre.
"We look forward to hearing from Dr Riding on how she worked with the cast and crew to represent this moment in history and find balance between the tragic sensitivities of the event and the cinematic drivers to inform as well as entertain."
Live Q&A
The live Q&A will take place at York's City Screen from 2:30pm, following the screening of the film at 12pm. Tickets can be booked here.
Dr Riding will also be taking part in an 'In Conversation' event with Professor Jon Mee on Friday 2 November, hosted by the University of York's Institute for Public Understanding of the Past and the Centre for Eighteenth Centre Studies at 4pm, Bowland Auditurium, University of York Campus West (no booking required).