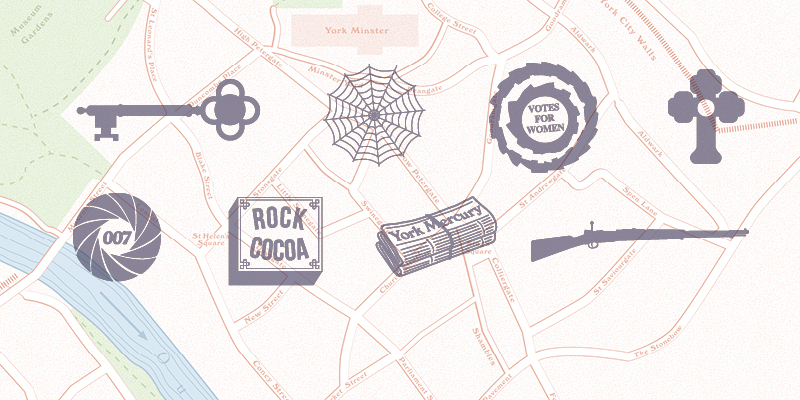 Trailblazing York - the trailblazers
We hope you enjoyed our Trailblazing York walking trail this year. Here is some information on the ten York trailblazers we highlighted.
In York a century ago, schoolteacher, Annie Coultate, embodied the suffragettes' rallying cry of 'deeds not words' in the fight to secure votes for women. In 1910, she became the founding secretary of the York branch of the suffragettes' militant pressure group, the Women's Social and Political Union, as well as mobilising women to take part in civil disobedience in support of their cause.
Annie Coultate, who was head assistant mistress at Fishergate School, was inspired to join the campaign for women's suffrage by a visit to York in 1908 by Emmeline Pankhurst. The WSPU sent speakers to address public meetings in York in 2009 and a local branch was formed the following year. Annie Coultate was convinced that radical measures were necessary and, in 1912, urged a public meeting to action. She practised what she preached for she was one of a number of York women who evaded the 1911 census in protest at the Government's refusal to give women the vote.
Dr Martin Lister was known as 'the spider man' long before comic book superheroes. His detailed study of British spiders in 1678 showed how some spiders disperse by 'ballooning' --using finely-spun silk to catch the wind.
Martin Lister was born in 1639 graduating from Cambridge in 1658. He studied medicine in France for three years, returning to St John's College, Cambridge in 1666 before setting up a medical practice in York in 1670. He was part of the York Virtuosi, an informal group of antiquarians, artists, printmakers, architects and natural philosophers. A true polymath, apart from medicine, his interests included zoology, fossils, chemistry, pharmacology, mathematics and York antiquities.
Dr Lister had around 40 learned papers published in the Philosophical Transactions of the Royal Society, of which he was made a Fellow in 1671. From 1683, Dr Lister practiced medicine in Westminster and in 1709, he was appointed Physician in Ordinary to Queen Anne. He died in 1712.
In the early 20th Century, Flora Sandes, who was born at Nether Poppleton, York, in 1876, was unique. A vicar's daughter, she was the only woman to fight officially on the frontline in World War One. Adventurous from an early age, after training as a stenographer, she travelled to Egypt, Canada and the USA. After war broke out in 1914 Flora served as an ambulance volunteer in Military Hospitals in Serbia. By October, 1915, she spoke fluent Serbian and enlisted in the Serbian Army receiving that country's highest military decoration. Flora survived the war despite sustaining a serious shrapnel wound in 1916, leaving the army six years later.
Flora and her husband were living in the former Yugoslavia when Germany invaded in 1941. Even at 65-year-old Flora donned her uniform and prepared to fight but the German victory was swift. A widow and penniless after the War, she lived with relatives in the Middle East and Africa. She died in England in 1956.
Grace White initiated a proud 300-year tradition of newspaper publishing in York when she brought out the city's first newspaper on 23 February 1719. Grace produced the first edition of the York Mercury from the printing house she had opened with her husband, John, in Coffee Yard, Stonegate. In 1688, the couple had published the manifesto of William of Orange.
After John White's death in 1716, Grace continued to operate their printing house and publish the York Mercury until her death in 1721. In January 1721, Charles Bourne took over the printing house and newspaper and they were acquired three years later by Thomas Gent. He re-titled the paper the Original York Journal and it ran until 1739 under a number of different titles. Its biggest competitor was the York Courant first published by Grace White's son, also called John, who established a press in Stonegate. The York Courant continued to be published until 1848.
Composer John Barry, who is credited with inventing the spy movie score, was born in York in 1933. Classical music was his first love and he studied composition with Francis Jackson, head of music at York Minster. But, as the son of the owner of eight cinemas, his ambition from a young age was to write film music. John Barry arranged the distinctive theme to the original James Bond film, Dr No and went on to write the music for 11 other Bond movies. He won five Oscars for his scores to films including Dances with Wolves, Out of Africa, and Born Free.
In 1999, he was awarded an OBE for services to music and, in 2002, he was confirmed as an Honorary Freeman of the City of York in a ceremony at the city's Assembly Rooms where he used to play trumpet in a jazz band on Saturday nights in the 1950s. He died in 2011.
For centuries, the Freedom of the City signified status and influence in York. On 29 September, 1687, John Moore became the first black man to join the ranks of Freemen of York. There were four ways of obtaining the Freedom of the city at the time – earning it, through serving an apprenticeship; inheriting it from a parent; receiving it as a reward for services to the city or by purchasing it. John Moore did the last of these.
Listed in the Freemen's Roll as 'John Moore – blacke', he paid two amounts: 20 nobles (13 shillings and sixpence) to the Common Chamber of the City Of York and a further £4 to the Mayor and Council. The total fee is equivalent to around £550 today and, while few details exist about John Moore, the fact that he was in a position to pay a substantial amount to become a Freeman suggested he was a wealthy member of the community.
Dr John Sentamu was born in Uganda in 1949 and studied Law at Makerere University. He was an advocate in the Supreme Court in Uganda and spoke out against the regime of President Idi Amin. He fled to the UK in 1974 and gained a doctorate in theology at Selwyn College, Cambridge, before studying for ordination at Ridley Hall, Cambridge. Dr Sentamu was ordained in 1979 and was consecrated as the Bishop of Stepney in 1996, and the Bishop of Birmingham in 2002.
In 2005 he was elected the 97th Archbishop of York. An evangelist, in 2016 he spent six months walking his diocese sharing the Gospel with all he met. Dr Sentamu emphasised human dignity, fairness, and social justice. He established a Youth Trust to develop young leaders to make a positive difference in their communities. He retired in June 2020 and was made a Life Peer in 2021.
Marion Kent bucked social norms in male-dominated medieval York. After her husband's death in 1468, she ran the family mercantile business becoming an influential member of the Mystery of Mercers (later the Company of Merchant Adventurers). For 30 years, using the port of Hull, she imported oil, madder for dye, wax, iron, soap and flax as well as exporting dyed woollen cloth and lead.
Her business, which was later taken over by her son, Henry, supplied iron to York Minster and timber to the powerful guild of Corpus Christi, one of a number of York guilds with which she was associated. Marion Kent, who was a member of the council of the Mystery of Mercers in 1474-5, managed various properties in and around York which had been bequeathed by her husband who was Lord Mayor in 1466-67. She bequeathed part of her wealth to charitable causes and died in 1500.
When Quaker Mary Tuke established her grocery shop in Walmgate in 1725, she rebelled against contemporary trading restrictions on unmarried women and, in doing so, originated York's confectionery industry. Besides selling tea, coffee, sugar and spices, her shop manufactured chocolate, 'Tuke's Superior Rock Cocoa'.
Born in York in 1695, Mary came from a prominent Quaker family but following the death of her father in 1704 and her mother 19 years later, she became head of the family. She resisted attempts to stop her trading for eight years until a compromise was reached and she was allowed to continue. Mary took on her nephew, William Tuke, as an apprentice in 1746 and when she died childless in 1754, he inherited the business. By that time, it had moved to a more prominent location on the corner of Coppergate and Castlegate. The Rowntree family later took over the shop as confectionery became one of the city's foremost industries.
Thomas Cooke was truly a man of vision. The self-educated son of a shoemaker, he became one of the world's foremost optical instrument makers, building telescopes initially in his workshop in Stonegate. Cooke pioneered the refracting telescope and constructed instruments for the Royal Observatory at Greenwich and Prince Albert. Before his death in 1868, he designed what was then the world's biggest telescope.
Born in 1807, he attended school only briefly before becoming his father's apprentice. But shoemaking held few attractions for him. Thomas Cooke wanted to go to sea but his mother disapproved, so he studied navigation and taught himself mathematics becoming a teacher. He studied optics in his spare time and was soon constructing progressively larger telescopes in his city centre workshops later establishing a factory in Bishophill in York. Thomas Cooke's company produced a range of optical equipment as well as clocks, steam engines and machine tools.