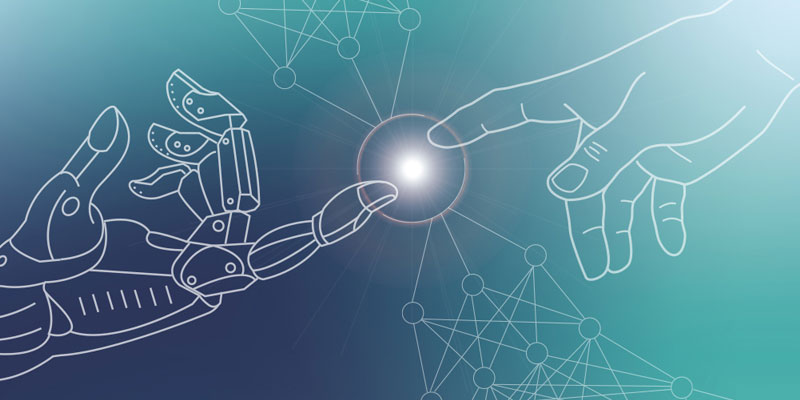 Artificial Intelligence: Where are we heading? John McDermid and Ana MacIntosh
This event has now finished.
Date and time:

Sunday 9 June 2019, 11am to 11.45am

Location:

Ron Cooke Hub, Campus East, University of York (Map)

Audience:

Open to the public

Admission:

Free admission, booking required
Event details
Artificial Intelligence is already here and used in our everyday lives - from electronic personal assistants like Siri and Alexa, to smart thermostats that learn our behaviour, to film and shopping recommendations from the likes of Amazon and Netflix, to self-parking cars.
But what might the future hold for AI?
As part of our special Artificial Intelligence Focus Day we explore where technologies are heading - and what this may mean for you.
Bring along your smart phone and join Ana MacIntosh and John McDermid of the Assuring Autonomy International Programme for an interactive session. Learn more about what AI is, how it's used and what a future with AI might look like.
This session includes plenty of opportunity for questions and discussion, so why not come along and join in the conversation?
Brought to you in collaboration with the Assuring Autonomy International Programme, which is supported by the Lloyd's Register Foundation and the University of York.
Travelling to the event
Public transport is the easiest way to travel to the University of York campus with frequent bus services from the city centre. If travelling by car to Campus East (Piazza Building and the Ron Cooke Hub), please use the Field Lane and Kimberlow Lane car parks. Maps and directions are available at york.ac.uk/maps.
About the speakers
Dr Ana MacIntosh manages the £12M Assuring Autonomy International Programme supported by the Lloyd's Register Foundation and the University of York. Prior to joining the University of York, she established and managed Sheffield Robotics, one of the UK's leading robotics research institutes, and she is a strong advocate for working across the boundaries of traditional disciplines.
Ana studied materials engineering and completed a PhD investigating the potential for using spider silk as a scaffold for tissue engineering, before working in project management and business development for organisations ranging from a micro-SME to a network of 11 universities.
John McDermid OBE FREng is Director of the Lloyd's Register Foundation Assuring Autonomy International Programme at the University of York. He has been Professor of Software Engineering at the University of York since 1987 and twice served as Head of Department. He founded the High Integrity Systems Engineering (HISE) research group, and has researched, taught and consulted on the safety of complex computer-based systems internationally over the last 30 years. He originated the Goal Structuring Notation (GSN) now used widely for the structuring of safety cases and has been involved in a number of projects adapting classical safety methods for computer systems and software. He also helped develop a number of safety standards, including CAP 670 SW01 used in air traffic management, and DS 00-560 and 550 used in defence.
John's research interests include the safety of robotics and autonomous systems and he has worked in a number of domains, particularly in aerospace. He continues to work on enhancing software engineering and safety practices in civil aerospace, for example through the SECT-AIR and ENCASE projects funded through the Aerospace Technology Institute (ATI). He is also involved in a range of projects in the maritime domain, including work on submarine systems. He has a long-standing collaboration on railway signalling with Beijing Jiaotong University, where he is a visiting professor, and collaborates with a number of other research, industrial and government organisations world-wide.
He was Head of the Department of Computer Science at the University of York from 2006 to 2012 and was elected a Fellow of the Royal Academy of Engineering in 2002. He was awarded an OBE in 2010.
Assuring Autonomy International Programme
The Assuring Autonomy International Programme is a £12 million initiative funded by Lloyd's Register Foundation and the University of York to spearhead research, training and standards in the safety of robotics and autonomous systems (RAS). Our vision is to further enable the widespread and beneficial uptake of RAS by overcoming the obstacles to achieving regulatory and public acceptance.
Partners