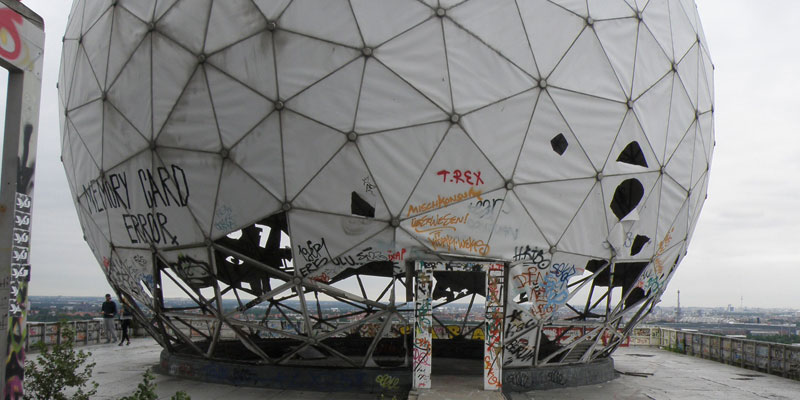 Archaeological Encounters with the Cold War
This event has now finished.
Date and time:

Monday 10 June 2019, 7pm to 7.50pm

Location:

York Cold War Bunker, Monument Close (Map)

Audience:

Open to the public

Admission:

Free admission, booking required
Event details
The magnificent ruin of the Teufelsberg - a former British and American listening station - sits in plain sight within the city of Berlin. But despite its prominent position, very little is known about the activities which took place there during the Cold War.
John Schofield of the University of York will explain how, while recent in date, some aspects of the Cold War remain poorly understood. He'll reveal how, although often only recently abandoned, archaeological investigations of former sites can provide significant detail on little known places and how they functioned.
The Teufelsberg in Berlin is no exception - other than the fact it represents an extreme example, given the high levels of secrecy still attached to it. Most documents about it remain highly classified.
Join John as he describes the history of the Teufelsberg through its surviving fabric, piecing together the activities that took place there during and after the Cold War. Discover why John has a particular and personal attachment to the site, which has drawn him towards it for over 40 years.
About the speaker
Professor John Schofield is Director of the Cultural Heritage Management MA programme within the University of York's Department of Archaeology. He was previously an archaeologist with English Heritage, where he had the dual responsibilities of being Inspector in the Characterisation Team and Head of Military Research and Designation Programmes.
John's research interests focus on cultural heritage management, landscape, archaeology of the contemporary past and conflict archaeology. He has published extensively in all of these fields and his latest book (with co-author Wayne Cocroft) is Archaeology of The Teufelsberg: Exploring Western Electronic Intelligence Gathering in Cold War Berlin.
Partners