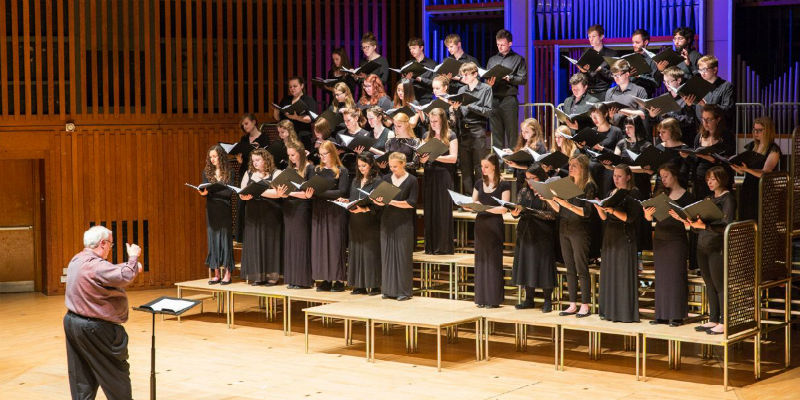 Brahms: University Chamber Choir
This event has now finished.
Date and time:

Wednesday 5 June 2019, 7.30pm to 9.30pm

Location:

Sir Jack Lyons Concert Hall, Campus West, University of York (Map)

Audience:

Open to the public

Admission:

Tickets: £12 (Concessions £10, students £3) Tickets also available on the door, booking recommended
Event details
Brahms wrote his two collections of Liebeslieder waltzes to be performed by voices and piano duet at informal social gatherings. The first collection, premiered by Robert and Clara Schumann, proved so popular that Brahms wrote a second five years later. As the name implies, they are songs of love in all its guises, accompanied by music in waltz tempo.
For his Zigeunerlieder, Brahms set German texts of Hungarian folk songs in the style of the gypsy music that fascinated him.
Join the University Chamber Choir, conducted by Peter Seymour, as they perform Brahms' Liebeslieder Walzer op. 52, Neue Liebeslieder Waltzes op. 65 and Zigeunerlieder op. 103 (1888).
About the performers
The University Chamber Choir appears in various sizes from small consort to larger forces up to around 75 singers according to the repertoire to be performed. Peter Seymour is the regular director of the ensemble and there are regular associations with University Baroque Ensemble. Members of the choir also sing in the University Choir.
The Choir has appeared at various prestigious festivals including Beverley Early Music Festival and York Early Music Festival and in programmes of Purcell (Masque from Fairy Queen, King Arthur, St Cecilia's Day Ode and The Yorkshire Feast Song) with University Baroque Ensemble.
Partners