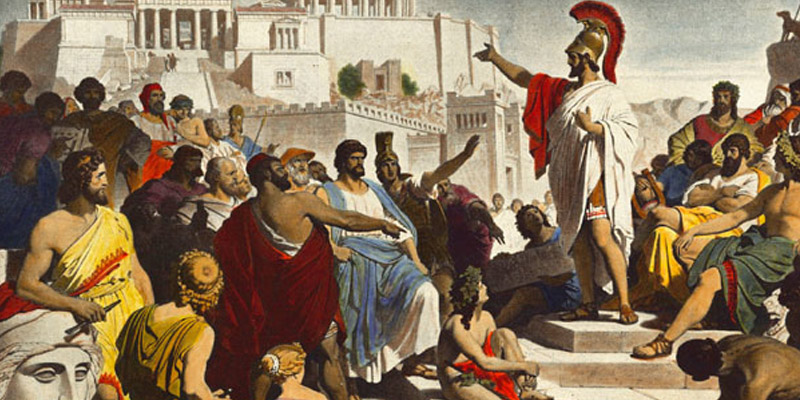 Democracy: A life Paul Cartledge
This event has now finished.
Date and time:

Monday 10 June 2019, 8pm to 9pm

Location:

Tempest Anderson Hall, Yorkshire Museum, Museum Gardens (Map)

Audience:

Open to the public

Admission:

Free admission, booking required
Event details
Democracy is either aspired to as a goal or cherished as a birthright by billions of people throughout the world today - and has been for over a century. But what does it mean? And how has its meaning changed since it was first coined in ancient Greece?
Historian Paul Cartledge, author of Democracy: A Life, discusses democracy's many different manifestations from ancient times through to the 'lamentable' referendum campaign on Brexit and successive events.
Discover how the 'people power' of the Athenians emerged and what enabled it to survive. How did the Athenian version of democracy differ from the many other forms that developed among the myriad cities of the Greek world?
Soaring through the history of democracy to the present day, Paul explores how, during the Brexit campaign, the essential differences between a referendum or plebiscite (direct democracy) and our normal, representative, parliamentary indirect mode of democracy were ignored, allowing democratic principles and procedures to unravel.
About the speaker
Paul Cartledge is A.G. Leventis Professor of Greek Culture Emeritus at the University of Cambridge and a Fellow of Clare College, Cambridge. Between 2006 and 2010 he was Hellenic Parliament Global Distinguished Professor in the History and Theory of Democracy at New York University. Over the course of his distinguished career he has written and edited numerous books on the ancient Greek world, including The Greeks: A Portrait of Self and Others, Ancient Greece: A Very Short Introduction and After Thermopylae. He has also served as historical consultant for the BBC television series The Greeks, and for four Channel 4 documentaries including The Spartans.
Image credit: Wikimedia Commons
Partners