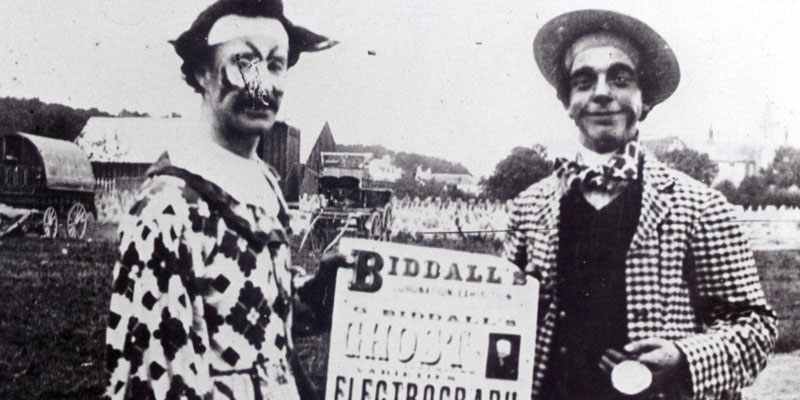 Illusion and Wonder: Travelling shows on the Fairground Vanessa Toulmin
This event has now finished.
Date and time:

Wednesday 5 June 2019, 6.30pm to 7.30pm

Location:

Tempest Anderson Hall, Yorkshire Museum, Museum Gardens (Map)

Audience:

Open to the public

Admission:

Free admission, booking required
Event details
For hundreds of years, shows – as the word showman implies - were the principal elements of the travelling fairground. Captured by Wordsworth in Book 7 of The Preludes as the 'stone-eater, the man who swallows fire, giants, ventriloquists, the invisible girl, and the bust that moves its goggling eyes', these shows were a mixture of illusion, fantasy and disturbing reality.
Join Vanessa Toulmin of the University of Sheffield for an illustrated talk as she examines 200 years of fairground illusion shows. Discover how they formed the basis of some of the greatest modern magic shows, provided the foundations for special effects in early film, and are incorporated into modern augmented reality in museum displays and interactive experiences.
It's all smoke and mirrors. But is it?
Image credit: The National Fairground and Circus Archive
About the speaker
Professor Vanessa Toulmin is Director of City and Culture, Partnerships and Regional Engagement at the University of Sheffield. She is also Curator and Producer of Festival of the Mind and Ideas Bazaar, and an Advisory Board Member of Circus 250: Celebrating the 250th anniversary of the birth of Circus (1768-2018).
Vanessa's passion for popular entertainment stems from her childhood on the Winter Gardens fairground in Morecambe and the fairgrounds in Lancashire and the North of England. From a showland family, her family fairground history was also a great influence igniting her interest in the subject. Numerous members of her family performed in shows, including her aunty Brenda who was a contortionist at the Moulin Rouge in Paris in the 1960s.
Vanessa is the author of 14 books, including The Lost World of Mitchell and Kenyon, Electric Edwardians, and Pleasurelands. Her recent publications include four major works on the architecture and history of Blackpool's attractions: Winter Gardens, Blackpool Tower, Blackpool Pleasure Beach and the Blackpool Illuminations.
Partners