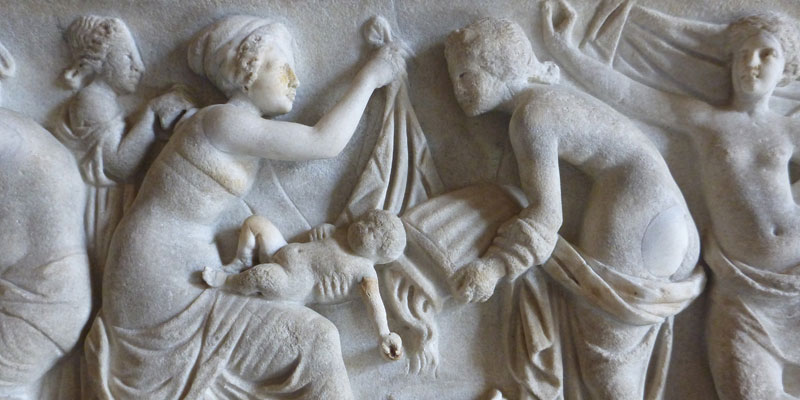 Early Childhood in the Roman Empire Maureen Carroll
This event has now finished.
Date and time:

Monday 10 June 2019, 6.30pm to 7.30pm

Location:

Tempest Anderson Hall, Yorkshire Museum, Museum Gardens (Map)

Audience:

Open to the public

Admission:

Free admission, booking required
Event details
Archaeologist Maureen Carroll provides new insights into the family in the Roman world, concentrating on its youngest members, the under one-year-olds.
The first year of life in Roman society was packed full of challenges, achievements and milestones that helped shape the child's physical and social development. Birthdays were celebrated by young and old, but the marking of the first birthday would have been a particularly important event in an era of high infant mortality. At a time when perhaps 30 per cent of Roman children may not have reached this milestone, Maureen reveals how records confirm that parents worried about losing their children and tried to enjoy them while they could.
Join Maureen, author of Infancy and Earliest Childhood in the Roman Empire, and learn more about the physical and emotional investment by the Roman family and society in the health, well-being and future of the very young.
About the speaker
Maureen Carroll is Professor of Roman Archaeology at the University of Sheffield and is also a founding member of its Centre for the Archaeology of Childhood. She studied Classical Archaeology in Canada, the USA, and Germany, and was the recipient of the prestigious Balsdon Fellowship and the Hugh Last Fellowship at the British School at Rome in 2008 and 2016 respectively. She has published widely on infant death and burial in Roman Italy, on Roman funerary commemoration, and on Roman gardens, and has conducted excavations at major sites in the Roman world, including Pompeii and Vagnari in Italy and Cologne in Germany.
Image credit: M Carroll
Partners