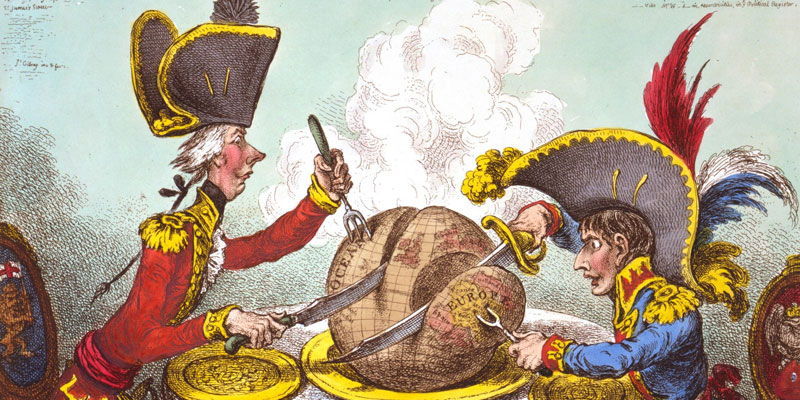 The Fantastic Visions of James Gillray Tim Clayton
This event has now finished.
Date and time:

Thursday 6 June 2019, 7pm to 8.30pm

Location:

Fairfax House, Castlegate (Map)

Audience:

Open to the public

Admission:

£14 (Friends and members £12; includes a post talk wine reception), booking required
Event details
For tickets, please call into Fairfax House or phone the Museum shop (Tuesday to Sunday) on 01904 655543.
James Gillray, savage satirist, cruel cartoonist and biting political commentator, wielded a power with his pen that few could match in Georgian Britain. His grotesquely exaggerated and wicked caricatures mercilessly ridiculed and poured scorn on politicians, celebrities and royalty alike.
Join Tim Clayton of the Paul Mellon Centre for British Art and learn how Gillray, the son of a disabled soldier, achieved worldwide fame as the greatest of caricaturists, a new art form that he made his own. Tim will present the satirist's colourfully distorted take on turbulent times in which enlightenment and revolution shook the foundations of society and belief.
The talk accompanies an exhibition on Gillray at Fairfax House, Savage Satire: From the Pen of James Gillray.
Please contact the venue for details on wheelchair access Tel: 01904 655543
About the speaker
Tim Clayton, Senior Fellow of the Paul Mellon Centre for British Art, is currently working on a new study of Gillray and the business of satire. He is a leading authority on printmaking and the print trade in the 18th and early 19th centuries, author of The English Print 1688-1802 and was co-curator of the British Museum exhibition Bonaparte and the British. He has also written a number of critically acclaimed military and cultural histories.
Partners