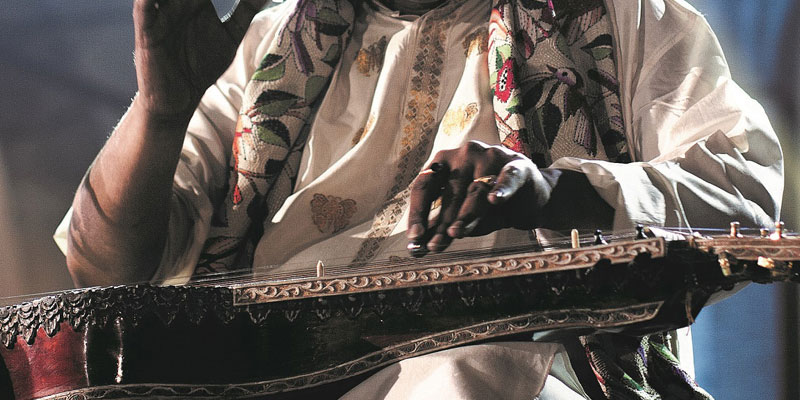 Debashish Bhattacharya and Derek Gripper
This event has now finished.
Date and time:

Thursday 6 June 2019, 7.30pm to 9.30pm

Location:

National Centre for Early Music, Walmgate (Map)

Audience:

Open to the public

Admission:

Tickets: £18 (Concessions £16, under 35s £6), booking required
Event details
Debashish Bhattacharya has long been recognised as the slide guitar master of India. An instrument born in Hawaii is superbly reworked for South Asian sounds. Debashish has recorded eight international albums, had a Grammy nomination and won several awards. He's created three guitars which bring a superb tonal variety to his musical compositions.
South African guitarist Derek Gripper is best known for his brilliant transcriptions of West African kora music onto six-string classical guitar as featured on his albums One Night on Earth and Libraries on Fire. What is less known is that he also studied Indian music and has arranged the solo violin works of Bach for guitar.
The guitar maestros have performed together in India and the USA, but this is the first time in the UK. Join them as they perform some of their solo repertoire before their spectacular collaborations.
Supported by SAA UK
About the performers
Debashish Bhattacharya has pioneered a unique style of Hindustani slide guitar through over 50 years of experience in study and performance, and has designed and patented three guitars for raga music. Having played more than 3,000 concerts all around the world and trained over 1,000 students, Debashish has redefined Indian Classical Music on slide guitar.
It took Derek Gripper untold hours of painstaking work to transcribe note-for-note the complex compositions of Malian kora player Toumani Diabaté and find a way of playing them on classical six-string guitar. The results appeared on his ninth album, One Night on Earth, marking a meeting point of the written tradition of Western classical music and the oral tradition of the West African griots. His following album Libraries on Fire won the Songlines Award for Best Album Africa and Middle East.
Partners