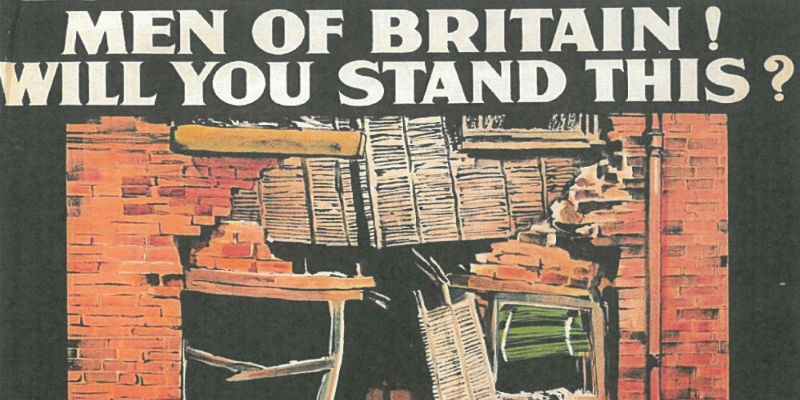 Propaganda and the People in Wartime Yorkshire Robert Barnes, Alice Brumby, Penelope Hodgson, Summer O'Brien, Christopher Price and Joanna Starzynski
Date and time:

Saturday 8 June 2019, 2pm to 5pm

Location:

DG/125, De Grey Court, York St John University, Lord Mayor's Walk (Map)

Audience:

Open to the public

Admission:

Free admission, booking required
Event details
What was the impact of the state on ordinary Yorkshire people in 20th century conflicts? From attempts to shape opinion in the aftermath of the German naval raid on Scarborough in 1914, to the presentation of war news to the people of York in the press, hear fresh interpretations of the interface between government and people in wartime.
Join York St John University students and staff as they present original historical research, which also looks at the publication of magazines written by patients at the Huddersfield War Hospital, forging links between wounded soldiers and the community which financed the hospital.
Learn about civil defence in York in World War Two, when the city was attacked in the Baedeker series of raids, and later when the advent of nuclear weapons spurred the development of civil defence in the Cold War.
About the speakers
Dr Robert Barnes is a Senior Lecturer in History at York St John University. His research interests lie in the International History of the 20th century. He is currently examining the relationships that existed between Britain and the members of the Commonwealth between 1945 and 1956.
Dr Alice Brumby is a Lecturer at York St John University, whose research interests focus on 19th and 20th-century mental health care and patient welfare in England.
Penelope Hodgson is a final year History student at York St John University.
Summer O'Brien is a final year History student at York St John University.
Dr Christopher Price is a Lecturer in History at York St John University whose research interests encompass political, economic and military history with a particular focus on British and USA history in the period surrounding the Great Depression and the two World Wars.
Joanna Starzynski is a postgraduate History student with York St John University. Her PhD research focuses on the construction of identity, community and alienation historically and within contemporary media and film.
Partners