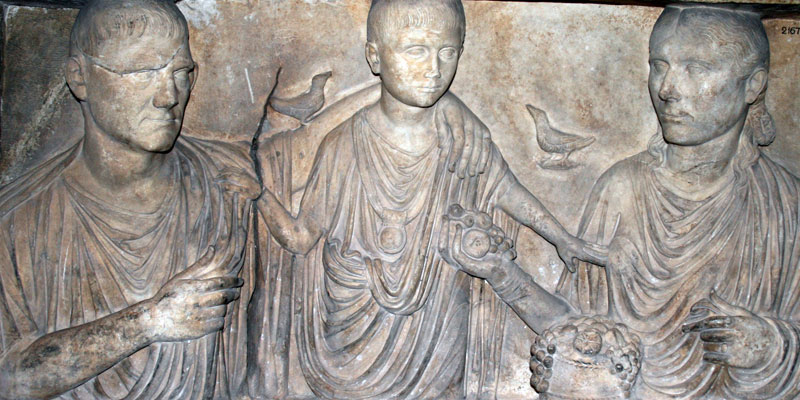 Seeing Through Clothes: What dress can tell us about Roman society Ursula Rothe
This event has now finished.
Date and time:

Thursday 6 June 2019, 6.30pm to 7.30pm

Location:

Tempest Anderson Hall, Yorkshire Museum, Museum Gardens (Map)

Audience:

Open to the public

Admission:

Free admission, booking required
Event details
Of all the ancient cultures, none was more focused on outward appearance than that of the Romans. It was a society marked by both a steep social hierarchy and an unusual amount of social mobility. But without the identification documents of modern societies, it was largely down to individual people to display who they were on their bodies.
As a result, dress played a central role in all aspects of life, from the cut and thrust of political life down to daily interactions on the street. Gender, age, legal status and political rank were all expressed in specific clothing, and key events in a person's life were marked by a change in dress.
Ursula Rothe of the Open University surveys the surviving evidence for Roman dress and explores what it can reveal to us about the complex machinations of Roman society. Join Ursula as she discusses how clothing could be used to assert power and challenge social boundaries.
About the speaker
Dr Ursula Rothe is Senior Lecturer in Classical Studies at the Open University. She is a Fellow of the Society of Antiquaries (Scotland) and Vice Chair of the Roman Society's Archaeology Committee.
Ursula's research looks at dress in the Roman Empire - both Rome and the provinces - and the way that clothing and appearance was used to assert and negotiate cultural identities. She is the author of The Toga and Roman Identity (Bloomsbury 2019 – in press) and Dress and Cultural Identity in the Rhine-Moselle Region of the Roman Empire.
Image credit: Wikimedia Commons
Partners