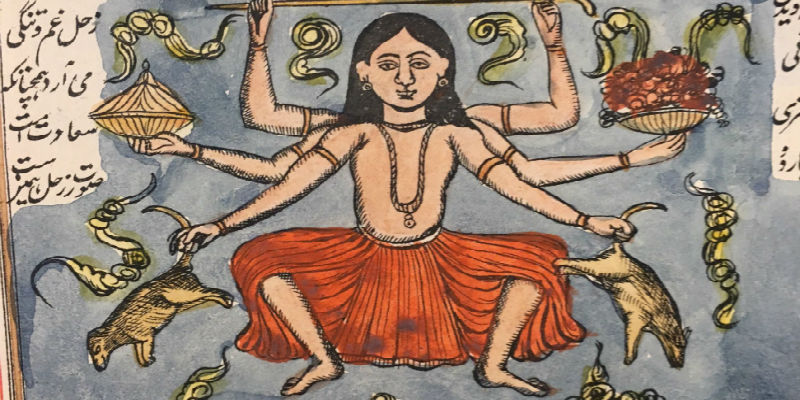 Persian and Urdu Divination Manuscripts Nur Sobers-Khan
This event has now finished.
Date and time:

Tuesday 4 June 2019, 6.30pm to 7.30pm

Location:

The Treehouse, Berrick Saul Building, Campus West, University of York (Map)

Audience:

Open to the public

Admission:

Free admission, booking required
Event details
Join Nur Sobers-Khan, Lead Curator for South Asia at the British Library, and learn about Urdu divination manuscripts and lithographs in South Asia from the 17th to 19th centuries.
Using texts from the illustrated genre of the Tilsim-i Aja'ib and the text-based genre of Ta'bir al-Ruya or dream interpretation, Nur will explain how these texts and illustrations were intended to be meant as a practical means of accessing the realms of spiritual insight and for prophesying future events.
Nur will reveal how visuality, cultural context and meaning interact in the divination practices of these two genres.
Nur's talk is part of a series of events organised by the York Islamic Art Circle, a collaboration between the University of York's Islamic Society and the Department of History of Art.
About the speaker
Dr Nur Sobers-Khan is currently the Lead Curator for South Asia at the British Library, responsible for the South Asian language books and manuscripts in Perso-Asian script. She is also the Principle Investigator of the AHRC/Newton-Babha-funded Two Centuries of Indian Print research and digitisation project that aims to create a digitised corpus of the British Library's early printed South Asian book collections.
Nur completed a BA in Oriental Studies (Arabic and Persian) in 2006 and a PhD in Islamic History in 2012 at the Oriental Studies Faculty at the University of Cambridge. From 2012-2013, she was the Iran Heritage Curator for Persian manuscripts at the British Library, and in 2014-2015, she was a curator at the Museum of Islamic Art in Doha, Qatar, where she curated the exhibition, Building Our Collection: Mughal and Safavid Albums and co-curated, Qajar Women: Images of Women in 19th-century Iran.
She is the author of Slaves Without Shackles: Forced Labour and Manumission in the Galata Court Registers, 1560–1572 (Berlin: Klaus Schwarz Verlag, 2014), and co-author, with Mounia Chekhab-Abudaya, of Qajar Women: Images of Women in 19th-century Iran (Milan: Silvana Editoriale, 2016).
Partners