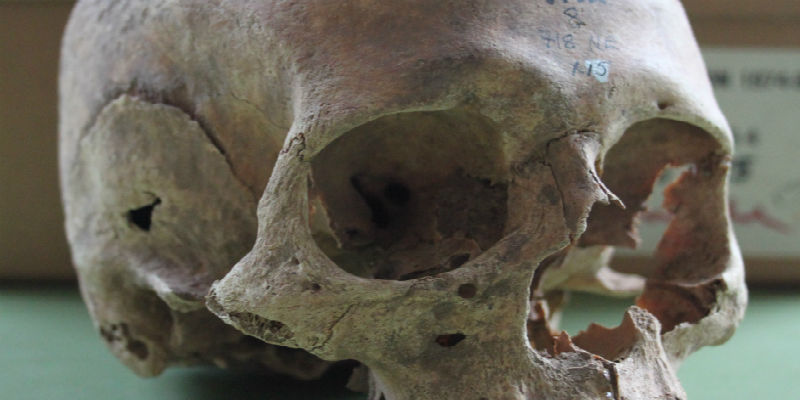 Uncovering the Viking Great Army Cat Jarman
This event has now finished.
Date and time:

Saturday 8 June 2019, 4pm to 5pm

Location:

The Lakehouse, Ron Cooke Hub, Campus East, University of York (Map)

Audience:

Open to the public

Admission:

Free admission, booking required
Event details
In 873, the notorious Viking Great Army attacked a monastery in Repton, forcing the Mercian king to flee the country and installing a puppet king in his place. 1100 years later, excavations uncovered evidence of the Army's winter camp along with Scandinavian graves and a mound covering the combined remains of nearly 300 people and Viking weapons.
It seemed the mass burial contained the Viking army dead - but radiocarbon dates suggested they couldn't all have died in the 9th century. So who were the people buried there?
Cat Jarman of the University of Bristol describes her use of bioarchaeological methods – forensic analysis of bones and teeth – to analyse their geographical origins and to uncover the truth about the Repton remains.
Join her and learn how new radiocarbon dates and excavations have solved a 40-year old puzzle and brought us closer to understanding not only the Viking presence in Repton, but also the legacy that the Great Army left behind.
About the speaker
Dr Cat Jarman is an Honorary Senior Research Associate at the University of Bristol. She is an archaeologist specialising in bioarchaeological investigation of human remains, including evidence for past migration and mobility. She is currently directing excavations searching for the Viking Great Army at Repton in Derbyshire, and has additional expertise in topics including the Viking Age, Viking Women, Rapa Nui (Easter Island) and isotope analysis.
Image: A skull from the Repton charnel. Credit: Cat Jarman
Partners