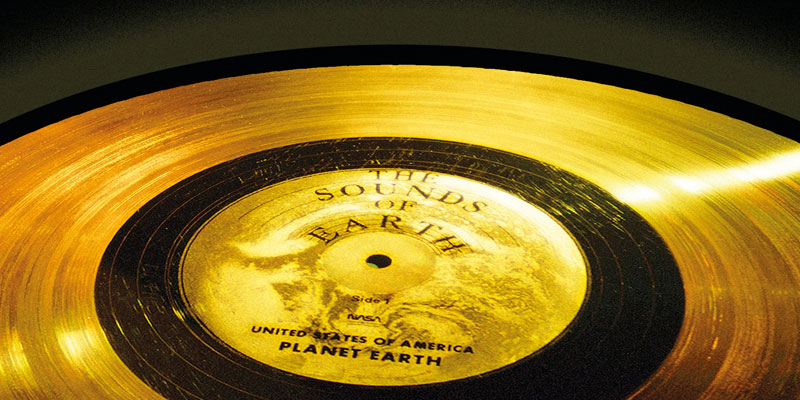 The Vinyl Frontier: The story of the Voyager Golden Record Jonathan Scott
This event has now finished.
Date and time:

Wednesday 12 June 2019, 7pm to 8pm

Location:

Bowland Auditorium, Berrick Saul Building, Campus West, University of York (Map)

Audience:

Open to the public

Admission:

Free admission, booking required
Event details
Have you ever made someone you love a mix-tape? Forty years ago, a group of scientists, artists and writers gathered in a house in Ithaca, New York to work on the most important compilation ever conceived. It wasn't from one person to another, it was from Earth to the Cosmos.
Music writer and self-confessed astronomy geek Jonathan Scott introduces the Voyager Golden Record, a genre-hopping multi-media metal LP created by NASA and fixed to the side of Voyager 1 and 2 in the summer of 1977.
An aliens' guide to Earthlings, the Voyager Golden Record is a 90-minute playlist of music from across the globe, a sound essay of life on Earth, spoken greetings in multiple languages and more than 100 photographs and diagrams. It included music by J.S. Bach and Chuck Berry, a message of peace from US president Jimmy Carter, and facts, figures and dimensions, all encased in a golden box.
Join Jonathan, author of The Vinyl Frontier: The story of the Voyager Golden Record, and learn how each track, each sound, and every image has a tale to tell.
About the speaker
Jonathan Scott is a music writer and formerly a contributing editor to Record Collector magazine. He has edited books about Prince, Cher and the San Francisco psych explosion, and written about Nirvana, the Pogues, the Venga Boys, Sir Patrick Moore and Sir Isaac Newton in a variety of magazines.

He received his first telescope aged eight, using it to track Halley's Comet in 1986. Having followed Voyager's planetary fly-bys throughout his childhood, he first got to write about the missions in 2004. If he'd been in charge of the Voyager Golden Record, aliens would assume humanity had three chords.
Partners