Filmmaker Billie JD Porter joins the voices calling for a new story about poverty at this year's York Festival of Ideas
Journalist and documentary filmmaker Billie JD Porter will headline the line-up of speakers at a York Festival of Ideas Focus Day which aims to celebrate great storytelling that can challenge stigma and shift attitudes towards people and communities trapped in poverty in the UK.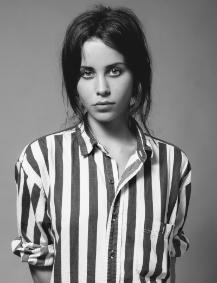 Taking place on Friday 14 June, the Festival Focus Day Poverty: How can we tell a new story to inspire change?, presented in collaboration with the Joseph Rowntree Foundation (JRF), features inspirational talks, music and films showcasing the stories of communities who are working hard to unlock opportunities for others struggling to keep afloat.
Billie will be talking about her own experiences of poverty and her work with young people through Project Twist-It, a multi-platform storytelling initiative and hub founded by Mary O'Hara and supported by JRF. Project Twist-It explores the challenges that people face and the need to address the stigma of poverty.
Other highlights of the day include the chance to visit the Beats Bus, a mobile recording studio, featured in Sean McAllister's critically acclaimed film A Northern Soul, which will be parked up in Parliament Street, York city centre. Launched as part of Hull's UK City of Culture in 2017, the Beats Bus is designed to encourage the next generation to speak out about their hopes and aspirations through music, and combines elements of hip-hop, break-dance, graffiti, MCing, DJing and knowledge.
There will be a special screening of A Northern Soul, which centres on protagonist Steve Arnott's Beats Bus project against the backdrop of Hull's year as the City of Culture. The film presents the reality of life for many working people restricted by low pay and debt in Britain today. The screening is followed by a Q&A session with both Sean and Steve.
Kerry Hudson, a prize-winning journalist and novelist, will be discussing her new book Lowborn which explores her own upbringing in poverty and her 'getting away' before returning to Britain's poorest towns. Other speakers involved in the day of events at the Tempest Anderson Hall, Yorkshire Museum, include filmmaker Sally Ogden, authors Mahsuda Snaith and Kev Curran of Inspired Youth. Contributors to Common People will also be attending - a group of writers looking to amplify the voice of working class authors through a collection of essays, poetry and pieces of personal memoir.
Billie JD Porter said: "It's a privilege to be working alongside Mary O'Hara and the Joseph Rowntree Foundation to bring a much needed spotlight to a conversation which so many of us find deeply uncomfortable.
"Discussing poverty isn't easy, but I believe that by sharing our experiences and embracing the ways that a difficult background needn't define a person, we can smash the poverty stigma, and challenge the long outdated media representation of those living in financial hardship.
"I can't wait to meet and collaborate with so many important voices at York Festival of Ideas."
Abigail Scott Paul, Deputy Director of Advocacy and Public Engagement at JRF, said: "The Festival Focus Day aims to celebrate the inspirational and hopeful stories of people who are often locked out of mainstream media and political debate by the shame and stigma associated with poverty.
"We have an amazing programme which is aimed squarely at telling a new story about poverty in the UK, one that will inspire action and call for change. There will be the opportunity to hear first-hand from writers, filmmakers and campaigners who are all working to amplify the experience of people and places held back by poverty."
York Festival of Ideas runs from 4 June to 16 June and will present over 200 mostly free events under the banner of A World of Wonder. Established and coordinated by the University of York, the Festival features world-class speakers, exhibitions, theatre, music, films, guided walks, family-friendly activities and more.
Other Festival Focus Days explore complex issues including toleration, the future of Artificial Intelligence and how to deliver a fair economy for all. Audiences will also have the chance to join in with discussions about the value of higher education to society and the relationship between creativity and science. How cultural identity in France and Britain is expressed by food, fashion and feminism will also be discussed.
Last year's York Festival of Ideas attracted an audience of over 40,000 and was the winner of the Outstanding Cultural Festival (Large) at the York Culture Awards. It scooped the award for Best Cultural Event or Festival the previous year.
Find out more about York Festival of Ideas and book tickets at yorkfestivalofideas.com.
Photo credit: Jay McLaughlin
Notes to editors:
Throughout the Festival, a number of free Focus Days are dedicated to events on a certain theme. People can come along for one event or stay for the whole day.
The Festival Focus Day Poverty: How can we tell a new story to inspire change? is presented in collaboration with the Joseph Rowntree Foundation (JRF).
Project Twist-It is a multi-platform initiative founded by Mary O'Hara which uses the power of storytelling to reflect the real, lived experience of those in poverty with the help of artists and writers inspired by the issue.
Media Information: Caron Lett 01904 322064
6 June 2019