Skip to Content
Accessibility statement
Bring your Family Bible
Tuesday 21 June 2011, 6.00PM to 8pm
Does your family have a Bible which has been passed down through the generations? Do you know how old your Bible is? Does it contain a family tree or other information about the history of your family? Bring your Bible along and share some family history with us! Peter Miller (Spelman's) and Bill Sherman (Centre for Renaissance and Early Modern Studies, University of York) will be on hand to offer expert advice and to discuss Bibles and other books as a storehouse for family history. Wine and soft drinks will be served.
Admission information

Admission is free and open to all, no pre-booking required.
Location: Ken Spelman Rare Books, 70 Micklegate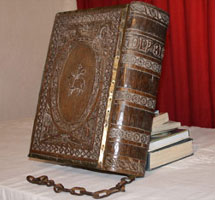 More details

Ken Spelman
70 Micklegate
York YO1 6LF

Tel: 01904 624414