Welcome to the York Festival of Ideas
Posted on 20 April 2011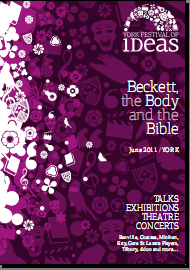 Where better then to bring together a range of world-class speakers, exhibitions, performances and artistic endeavour. The Festival of Ideas is a partnership between the University of York, York Theatre Royal, The National Centre for Early Music and York Museums Trust and we hope that the events in this first pilot Festival will appeal to people of all ages, including residents of York and our many visitors.
The Festival explores a series of intriguing links between past and present, showcasing contemporary ideas, arts and culture, and brings these ideas into conversation with the heritage of the city to reveal new and exciting stories about York, Britain and the world.
The themes of this first Festival are Beckett, the Body and the Bible.
Samuel Beckett is one of the inspirations for our Festival. Beckett's dark humour speaks with special power to the uncertainties of our global world. We are delighted to welcome to York two novelists powerfully influenced by Beckett's work - John Banville and the Nobel Laureate JM Coetzee - and to host theatre performances by the internationally renowned Gare St Lazare Players.
The body, as a site of pleasure, or as a flashpoint for artistic and racial controversy, is another important theme linking a number of Festival events. Listen to Kester Aspden discussing the case of David Oluwale, the Nigerian migrant whose body was found in the River Aire in 1969. Enjoy A Mad World, My Masters, Thomas Middleton's brilliant comedy of conmen and sexual intrigues, first performed in 1605. Inspired by Rubens and Titian, the York painter William Etty was the first major British painter to specialise in depicting the nude: come and discover his career and controversial reputation in a major exhibition opening at the Art Gallery. Or experience Mischa Twitchin's Thanatoscope: an innovative digital installation incorporating imagery such as Beethoven's death mask.
Our Festival also celebrates the 400th anniversary of the King James Bible. The new Bible changed the political and cultural landscape of Europe and transformed the English language. To find out more, why not see the fascinating exhibition A Book Fit for a King at York Minster's Old Palace. Join us at the Theatre Royal to explore the relationship between community and belief at Anthony Minghella's touching and funny play, Two Planks and a Passion, listen to a unique interweaving of early Renaissance music or experience digital imagery in The Greatest Story Ever Told at the National Centre for Early Music.
We hope our first programme will inspire a new understanding of the power of ideas and the intellectual dynamism of the city of York.
The Festival of Ideas team