Skip to Content
Accessibility statement
Reading by John Banville
Thursday 23 June 2011, 6.00PM
This reading brings Booker-Prize winning novelist, John Banville, to York. Throughout his career, Banville has produced short stories, adaptations for theatre and film, as well as celebrated novels such as The Book of Evidence and The Sea. Regarded as the most stylistically elaborate Irish writer of his generation, John Banville is a philosophical novelist concerned with the nature of perception, and the conflict between imagination and reality. Like Beckett, John Banville moves fluidly from Irish landscapes and characters to European contexts and histories, and from conventional narratives into worlds of fable and distortion.
Admission information

Admission is by free ticket only. Please go to the tickets page to register.
Location: Room P/X001, Physics, University of York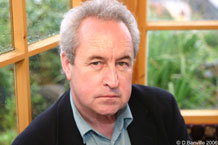 More details

This event is part of the Samuel Beckett International Conference and Festival taking place at the University from 22 to 26 June. Further information on the Festival is available at www.outofthearchive.com.