Skip to Content
Accessibility statement
Kester Aspden: Writing the Criminal Act
Tuesday 28 June 2011, 5.30PM
Kester Aspden is the author of The Hounding of David Oluwale, the award-winning book about the life, persecution and death of Oluwale, the African immigrant who was found dead in the River Aire in 1969. The book used original archival material to reveal the systematic campaign of abuse against Oluwale by two Leeds police officers and charted the criminal investigation which led to their eventual prosecution. It sets this painful story in the broader context of Britain's postcolonial history, raising questions which are fundamental for our world today. Aspden grew up in West Yorkshire and in York, has a doctorate in history from Cambridge, and now lives in Madrid. He will be talking about his past and current work, and the social contexts of hate and crime. His next book, Broken English: Memoir of a Troubled Youth (Simon and Schuster, 2012) is a personal exploration of a teenage crime and the youth justice system.
Admission information

Admission is free and open to all. No pre-booking required.
Location: National Centre for Early Music, Walmgate, York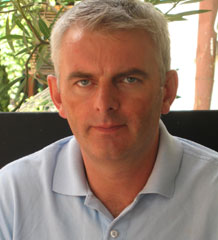 More details

This talk is part of York Deviancy Conference (Critical perspectives on crime, deviance, disorder and social harm), hosted by the University of York's Department of Sociology.

Directions to the National Centre for Early Music in St Margaret's Church, Fossgate, York.