About the festival

York Festival of Ideas 2019 will take place from 4 to 16 June under the banner of A World of Wonder.

With mostly free events, including talks, performances, exhibitions and family-friendly activities, the Festival delivers an exciting and diverse programme for all ages.

The annual festival is made possible through the generous support of a range of sponsors and partners. Read more…
Subscribe to our mailing list

Be the first to hear about the 2019 Festival as details are made available by joining our mailing list.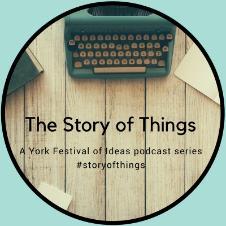 The Story of Things

Listen to Series Two of the Festival of Ideas podcast, hosted by Dr Penny Spikins.
Visiting York?

Planning a visit to York? Plan ahead by viewing the online version of the York Visitor Guide 2018 with full information and tips on places to eat, stay and explore.

Visit the website to find out more.
How to support us

Thanks to the generous support of a range of individual donors, partners, charitable foundations and business partners, York Festival of Ideas is now one of the largest free festivals of its kind in the UK.

There are a wide range of ways to get involved and contribute to making the Festival as accessible and inclusive as possible - Read more…
Be part of the festival

Would you like to present an event as part of York Festival of Ideas? Then we'd love to hear from you.

While the deadline for submissions for the 2019 Festival has passed, find out how you can get involved next year. Read more…
Twitter updates
2018 Programme

Download the 2018 Festival of Ideas programme (PDF , 16,653kb)