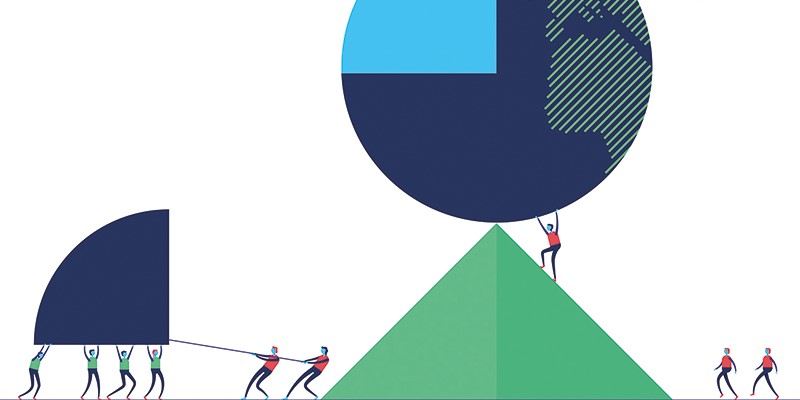 The Women Shaping the New British Economy Sarah Marie Hall, Zubaida Haque, Heather Melville, Rachel Oliver and Jo Swaffield
Date and time:

Friday 7 June 2019, 1.30pm to 3pm

Location:

RCH/037, Ron Cooke Hub, Campus East, University of York (Map)

Audience:

Open to the public

Admission:

Free admission, booking required
Event details
As part of our Festival Focus Day on the future of Economics, we meet some of the trailblazing women developing new approaches to the economy and monetary policy.
Speakers include Heather Melville OBE, Director and Head of Client Experience at PwC; Jo Swaffield, Head of the University of York's Department of Economics; Rachel Oliver Head of Campaigns at Positive Money - which campaigns for a money and banking system that enables a fair, sustainable and democratic economy; Sarah Marie Hall of the Women's Budget Group (WBG), a not-for-profit organisation that monitors the impact of government policies on men and women; and Zubaida Haque of the Runnymede Trust, who is a Commissioner on the WBG Commission on a Gender-Equal Economy.
This event is part of the Festival Focus Day, A Fair Economy. A Better World, presented in partnership with the Friends Provident Foundation. You may be interested in the related events, The Future of Economics: Transforming the discipline and The Postcode Lottery: Globalisation and the left behind.
About the speakers
Dr Sarah Marie Hall is a Senior Lecturer in Human Geography, ISRF Fellow and Morgan Centre Member at the University of Manchester. Her research sits in the broad field of feminist political economy: understanding how socio-economic processes are shaped by gender relations, lived experience and social difference. Sarah has been a member of the Women's Budget Group Management Committee since 2014, and is particularly involved in conducting and advising on qualitative research strategy and public engagement activities.
Heather Melville OBE is Director and Head of Client Experience at PwC. She is an accomplished and passionate sales leader with 20+ years of experience covering global client relationships across FTSE 100-250 companies. She partners with local government agencies and industry specialist forums to support the growth of entrepreneurial businesses. Her awards include: one of the Black Power Lists' most influential Black person in the City – 2018 and top 100 Women in Business - Sheroes (Gender) by UPstanding – 2018. Heather is Chair and Non Executive Director of CMI Women, Non Executive Director at Enterprise Enfield and a patron to Women in Banking and Finance. She was awarded an OBE in the 2017 New Years' Queens Honours for services to Business and Gender Equality.
Rachel Oliver is Head of Campaigns at Positive Money and is passionate about getting ordinary people involved in politics and economics, to build a society that puts people and planet first. As Head of Campaigns, she works to grow, diversify and mobilise Positive Money's network of supporters around the UK. She helps supporters to take action together online and in local groups, keeps the network updated with the campaign, and works to build relationships and leadership within the Positive Money community. She gained a first class honours degree in modern languages and International Relations at Leeds University, and previously worked for Stop Aids, Crisis Action and 38 Degrees.
Professor Jo Swaffield is a Professor of Economics in the Department of Economics and Related Studies, University of York and Head of Department. Her main areas of research interest are labour economics and applied microeconometrics, focusing on issues in the UK labour market such as the gender wage gap, in-work poverty and low wages (including minimum wages and the Living Wage). Jo's research has been funded by the Economic and Social Research Council (ESRC), the Joseph Rowntree Foundation (JRF) and the Low Pay Commission (LPC). She is Chair of the the Royal Economic Society's 'Conference of Heads of University Departments of Economics' (CHUDE) and a member of the Home Office's Migration Advisory Committee (MAC).
Partners