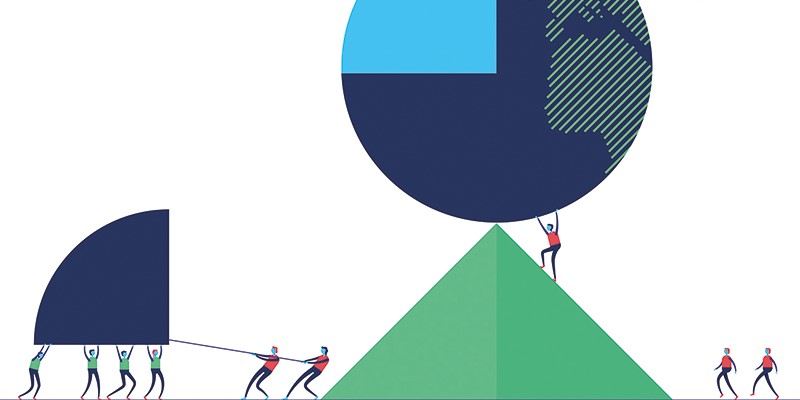 The Women Shaping the New British Economy Zubaida Haque, Heather Melville, Rachel Oliver, Jo Swaffield and Juliette Healey (Chair)
This event has now finished.
Date and time:

Friday 7 June 2019, 1.30pm to 3pm

Location:

RCH/037, Ron Cooke Hub, Campus East, University of York (Map)

Audience:

Open to the public

Admission:

Free admission, booking required
Event details
As part of our Festival Focus Day on the future of Economics, we meet some of the trailblazing women developing new approaches to the economy and monetary policy.
Speakers include Heather Melville OBE, Director and Head of Client Experience at PwC; Jo Swaffield, Head of the University of York's Department of Economics; Rachel Oliver Head of Campaigns at Positive Money- which campaigns for a money and banking system that enables a fair, sustainable and democratic economy; and Zubaida Haque of the Runnymede Trust, who is a Commissioner on the Women's Budget Group (WBG) Commission on a Gender-Equal Economy. The session is chaired by Juliette Healey, Agent for Yorkshire and the Humber at the Bank of England.
Travelling to the event
Public transport is the easiest way to travel to the University of York campus with frequent bus services from the city centre. If travelling by car to Campus East (Piazza Building and the Ron Cooke Hub), please use the Field Lane and Kimberlow Lane car parks. Maps and directions are available at york.ac.uk/maps.
This event is part of the Festival Focus Day, A Fair Economy. A Better World, presented in partnership with the Friends Provident Foundation. You may be interested in the related events, The Future of Economics: Transforming the discipline and The Postcode Lottery: Globalisation and the left behind.
About the speakers
Dr Zubaida Haque is the Deputy Director of The Runnymede Trust and is a Commissioner on the Women's Budget Group Commission on a Gender-Equal Economy. Zubaida has worked extensively on policy issues regarding educational attainments, ethnic minorities and employment, equality within prisons, integration and extremism. She has worked for several government departments, Thinktanks and universities and is a Fellow of the Royal Society of Arts. Some of her recent projects include disproportionality and safety in prisons, the impact of racism on BME teachers, loneliness among BME communities and barriers for black young men in work. Zubaida has also written many comment pieces in national newspapers about racism, inequalities in employment, knife crime, and Islamophobia.
Juliette Healey is Agent for the Bank of England – their most senior representative in the Yorkshire and Humber region. Her role is to give policy makers an up to date view of prospects for the UK economy. Juliette talks to business leaders from a wide range of firms covering all sectors of the economy across the region. Her view, along with that of her colleagues across the UK, is an important input into both monetary and financial stability deliberations at the Bank of England. As the Bank's Agent, Juliette provides a bridge between theoretical economics and the real economy. Juliette has had a varied career, much of it at the Bank. Her roles have covered the housing market, monetary policy, foreign exchange and money markets, financial stability issues, press and parliamentary affairs and technical assistance to overseas central banks. Two secondments included HM Treasury and the International Monetary Fund, Washington DC.
Heather Melville OBE is Director and Head of Client Experience at PwC. She is an accomplished Corporate Banker and passionate sales leader with over 30 years of experience covering global client relationships across FTSE 100-250 companies. She partners with local government agencies and industry specialist forums to support the growth of entrepreneurial businesses. Her awards include: one of the Black Power Lists' most influential Black person in the City – 2018 and top 100 Women in Business - Sheroes (Gender) by UPstanding – 2018. Heather is Chair and Non Executive Director of CMI Women, Non Executive Director at Enterprise Enfield and a patron to Women in Banking and Finance. She was awarded an OBE in the 2017 New Years' Queens Honours for services to Business and Gender Equality.
Rachel Oliver is Head of Campaigns at Positive Money and is passionate about getting ordinary people involved in politics and economics, to build a society that puts people and planet first. As Head of Campaigns, she works to grow, diversify and mobilise Positive Money's network of supporters around the UK. She helps supporters to take action together online and in local groups, keeps the network updated with the campaign, and works to build relationships and leadership within the Positive Money community. She gained a first class honours degree in modern languages and International Relations at Leeds University, and previously worked for Stop Aids, Crisis Action and 38 Degrees.
Professor Jo Swaffield is a Professor of Economics in the Department of Economics and Related Studies, University of York and Head of Department. Her main areas of research interest are labour economics and applied microeconometrics, focusing on issues in the UK labour market such as the gender wage gap, in-work poverty and low wages (including minimum wages and the Living Wage). Jo's research has been funded by the Economic and Social Research Council (ESRC), the Joseph Rowntree Foundation (JRF) and the Low Pay Commission (LPC). She is Chair of the the Royal Economic Society's 'Conference of Heads of University Departments of Economics' (CHUDE) and a member of the Home Office's Migration Advisory Committee (MAC).
Partners