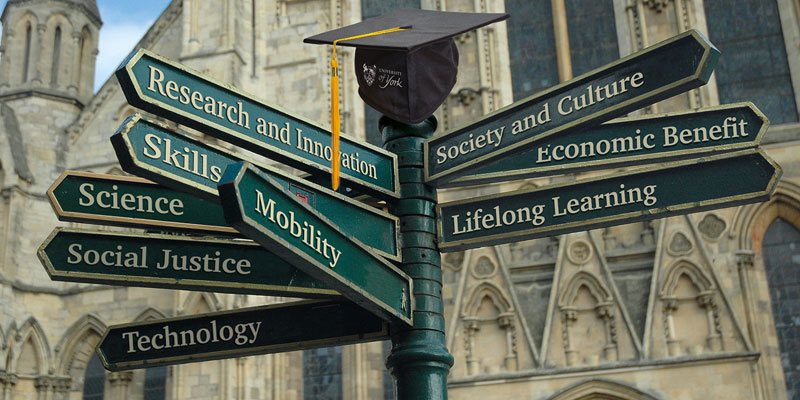 What Have Universities Ever Done For Us? Social justice and lifelong learning Anne-Marie Canning, Andrew Parsons, Kate Sandars, Bobby Seagull, Andy Westwood and Sir Malcolm Grant (Chair)
This event has now finished.
Date and time:

Saturday 8 June 2019, 2.15pm to 3.45pm

Location:

RCH/037, Ron Cooke Hub, Campus East, University of York (Map)

Audience:

Open to the public

Admission:

Free admission, booking required
Event details
What do universities need to do to redefine their purpose, value and relevance to the many and not just the few?
As part of our Festival Focus Day, What Have Universities Ever Done For Us?, our speakers discuss how universities help advance social mobility and social justice.
Join in the conversation with speakers including Maths teacher and University Challenge star Bobby Seagull; Anne-Marie Canning of King's College London; Andy Westwood of the University of Manchester; Kate Sandars of FutureLearn and Andrew Parsons of the University of York. The seesion is chaired by Sir Malcolm Grant, Chancellor of the University of York.
Our Festival Focus Day is presented in collaboration with the UPP Foundation and HE for Research Professional.
Please note: The times for this event are different to those advertised in the Festival brochure.
This event is part of the Focus Day What Have Universities Ever Done For Us? Why not attend Tackling Global Challenges: Climate change, civic engagement, Europe and Brexit and In Defence of the Humanities.
MadeAtUni is a new campaign to bring to life the impact of universities up and down the country on people, lives and communities. View the 100+ ways universities have improved everyday life, and explore the breakthroughs in health, technology, sport and culture, environment, family, and community. Follow on Facebook, Twitter and Instagram @MadeAtUni
About the speakers
Anne-Marie Canning MBE is the Director of Social Mobility and Student Success at King's College London. In this role she provides leadership and strategic direction for full lifecycle widening participation across the institution. Anne-Marie is also the independent chair of the Department for Education led Bradford Opportunity Area. She is a member of the Universities UK Ministerial Social Mobility Advisory Group and has served as the elected Chair of the Russell Group Widening Participation Association. She previously worked at University College Oxford and holds a University of Oxford Teaching Award. She studied at the University of York and served a sabbatical term as the President of the students' union. She is a trustee of the Bridge Group, a policy association researching and promoting socio-economic diversity and equality. In 2018 she was awarded an MBE in the Queen's Birthday Honours for services to higher education.
Professor Sir Malcolm Grant is Chancellor of the University of York. He recently completed a seven-year term as Chairman of NHS England. He served for 10 years as President and Provost of UCL, from 2003 to 2013, and was previously Pro Vice Chancellor of Cambridge and Professor and Head of Department of Land Economy. He is an Honorary Fellow of Clare College Cambridge.
Past roles have included service as Chairman of the Russell Group, of the Local Government Commission for England, and of the Agriculture and Environment Biotechnology Commission. He has been a member of the Higher Education Funding Council for England (HEFCE), of the Economic and Social Research Council (ESRC) and of the University Grants Committee of Hong Kong. He has a strong interest in higher education globally, and is currently senior adviser to the President of Arizona State University; President of the Council for the Assistance of At-Risk Academics (CARA); Chairman of the PLuS Alliance advisory board (Australia, USA and UK), Chairman of international advisory panels for the National Research Council of France; and a member of the Russian Federation Government's International Council on leading universities (the 5-100 project).
Andrew Parsons is a Professor in Chemistry at the University of York. He has a background in synthetic organic chemistry, with a particular focus on the synthesis of organic compounds using new radical reactions. In January 2017, he delivered a first ever University of York massive open online course (MOOC) , called Exploring Everyday Chemistry, comprising four weeks of learning with 85 individual learning steps, including more than 30 videos and screencasts. Following re-runs in July 2017 and 2018, the course has attracted over 12,000 learners from well over 100 countries. In 2018, Andy was awarded a prestigious National Teaching Fellowship by the Higher Education Academy in recognition of his inspirational and innovative approaches to teaching. He is a Fellow of the Royal Society of Chemistry and a Senior Fellow of The Higher Education Academy.
Kate Sandars is Head of Partnerships Development at FutureLearn, an online social learning platform offering free and paid-for courses and degrees from leading UK and international universities and specialist organisations. In this role she has overseen and nurtured 150+ partners, understanding their diverse needs and demonstrating FutureLearn's credentials in order to grow new business and create substantial, predictable and recurring income. She has extensive key account management experience, working with university partners in the UK, Asia and Australia. Her key achievements include building partnerships in the Asia-Pacific area, working with universities in China, Hong Kong, Taiwan, Malaysia, Australia and New Zealand.
Bobby Seagull is a Maths teacher who was a hit when he appeared on BBC's University Challenge programme leading the Emmanuel College, Cambridge team. After his undergraduate degree in 2007, he initially started his career in business as a financial markets trader at Lehman Brothers and Nomura, then qualified as a Chartered Accountant at PwC. In 2007, he co-founded OxFizz, an educational social enterprise that supports sixth form students applying to top universities. In 2014, he became a trustee at UpRising, a charity that works on youth leadership development for 16–25 year olds. In 2014, he moved into teaching full-time and completed a PGCE and Masters in Education. He is currently also doing a Doctorate in Education at Cambridge. Bobby is an ambassador for National Numeracy, a charity that focuses on improving numeracy for everyone, particularly adults. He recently joined his local post-16 Newham College as a governor.
Andy Westwood is Vice Dean of Humanities and Professor of Government Practice at the University of Manchester. He is a Visiting Professor of Further and Higher Education at the University of Wolverhampton and an occasional adviser to the IMF and OECD. He is currently a specialist adviser to the House of Lords Committee on Economic Affairs and was previously a special adviser to ministers at the Department for Innovation, Universities and Skills and a senior adviser at HM Treasury and the Departments for Education and Communities and Local Government. He is a member of the UPP Foundation's Civic University Commission Steering Group and writes regularly for WonkHE, the Times Higher and the Guardian.
Image credit: Doug James
Partners