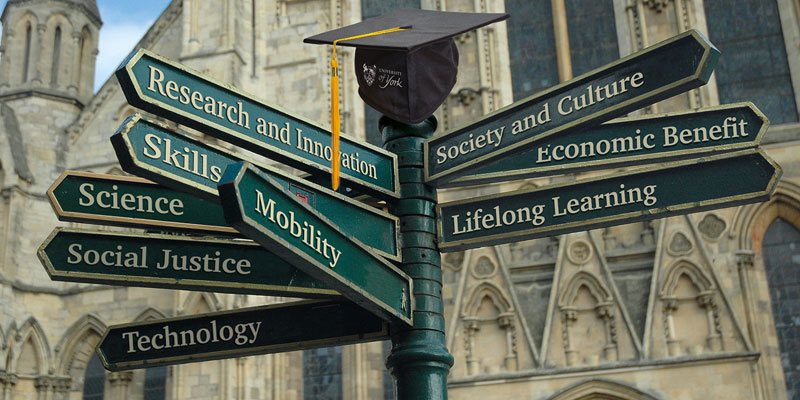 What Have Universities Ever Done For Us? Social justice and lifelong learning Anne-Marie Canning, Andrew Parsons, Kate Sandars, Bobby Seagull and Andy Westwood
Date and time:

Saturday 8 June 2019, 2.15pm to 4.15pm

Location:

RCH/037, Ron Cooke Hub, Campus East, University of York (Map)

Audience:

Open to the public

Admission:

Free admission, booking required
Event details
What do universities need to do to redefine their purpose, value and relevance to the many and not just the few?
As part of our Festival Focus Day, What Have Universities Ever Done For Us?, our speakers discuss how universities help advance social mobility and social justice.
Join in the conversation with speakers including Maths teacher Bobby Seagull; Anne-Marie Canning of King's College London; Andy Westwood of the University of Manchester; Kate Sandars of FutureLearn and Andrew Parsons of the University of York.
Our Festival Focus Day is presented in collaboration with the UPP Foundation and HE for Research Professional. If you can, why not join us for the whole day?
Please note: The times for this event are different to those advertised in the Festival brochure.
MadeAtUni is a new campaign to bring to life the impact of universities up and down the country on people, lives and communities. View the 100+ ways universities have improved everyday life, and explore the breakthroughs in health, technology, sport and culture, environment, family, and community. Follow on Facebook, Twitter and Instagram @MadeAtUni
About the speakers
Anne-Marie Canning MBE is the Director of Social Mobility and Student Success at King's College London. In this role she provides leadership and strategic direction for full lifecycle widening participation across the institution. Anne-Marie is also the independent chair of the Department for Education led Bradford Opportunity Area. She is a member of the Universities UK Ministerial Social Mobility Advisory Group and has served as the elected Chair of the Russell Group Widening Participation Association. She previously worked at University College Oxford and holds a University of Oxford Teaching Award. She studied at the University of York and served a sabbatical term as the President of the students' union. She is a trustee of the Bridge Group, a policy association researching and promoting socio-economic diversity and equality. In 2018 she was awarded an MBE in the Queen's Birthday Honours for services to higher education.
Bobby Seagull is a Maths teacher who was a hit when he appeared on BBC's University Challenge programme leading the Emmanuel College, Cambridge team. After his undergraduate degree in 2007, he initially started his career in business as a financial markets trader at Lehman Brothers and Nomura, then qualified as a Chartered Accountant at PwC. In 2007, he co-founded OxFizz, an educational social enterprise that supports sixth form students applying to top universities. In 2014, he became a trustee at UpRising, a charity that works on youth leadership development for 16–25 year olds. In 2014, he moved into teaching full-time and completed a PGCE and Masters in Education. He is currently also doing a Doctorate in Education at Cambridge. Bobby is an ambassador for National Numeracy, a charity that focuses on improving numeracy for everyone, particularly adults. He recently joined his local post-16 Newham College as a governor.
Andy Westwood is Vice Dean of Humanities and Professor of Government Practice at the University of Manchester. He is a Visiting Professor of Further and Higher Education at the University of Wolverhampton and an occasional adviser to the IMF and OECD. He is currently a specialist adviser to the House of Lords Committee on Economic Affairs and was previously a special adviser to ministers at the Department for Innovation, Universities and Skills and a senior adviser at HM Treasury and the Departments for Education and Communities and Local Government. He is a member of the UPP Foundation's Civic University Commission Steering Group and writes regularly for WonkHE, the Times Higher and the Guardian.
Image credit: Doug James
Partners