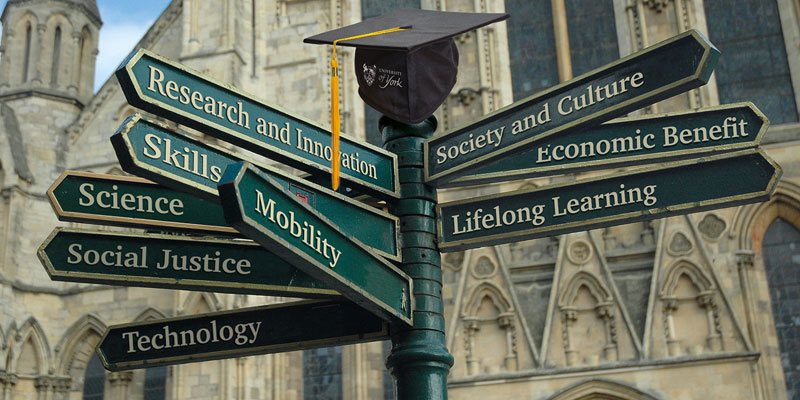 What Have Universities Ever Done For Us? In Defence of the Humanities Tim Leigh, Philip Long, Omar Shahryar, Helen Smith, Faye Taylor and Harriet Swain (Chair)
This event has now finished.
Date and time:

Saturday 8 June 2019, 4.15pm to 5.45pm

Location:

RCH/037, Ron Cooke Hub, Campus East, University of York (Map)

Audience:

Open to the public

Admission:

Free admission, booking required
Event details
Questions are increasingly being asked about the 'value' of arts and the humanities in the context of higher education. As part of our Festival Focus Day, What Have Universities Ever Done For Us?, our speakers demonstrate the integral contribution of arts, culture and the humanities to society.
Speakers include Philip Long of V&A Dundee; Faye Taylor of the Association of Commonwealth Universities; Helen Smith and Omar Shahryar of the University of York; and Tim Leigh of Stage One Creative Services Ltd. The session is chaired by Harriet Swain, Associate Editor of HE for Research Professional.
Our Festival Focus Day is presented in collaboration with the UPP Foundation and HE for Research Professional. If you can, why not join us for the whole day?
Please note: The times for this event are different to those advertised in the Festival brochure.
This event is part of the Focus Day What Have Universities Ever Done For Us? Why not attend Tackling Global Challenges: Climate change, civic engagement,Europe and Brexit and Social Justice and Lifelong Learning?
MadeAtUni is a new campaign to bring to life the impact of universities up and down the country on people, lives and communities. View the 100+ ways universities have improved everyday life, and explore the breakthroughs in health, technology, sport and culture, environment, family, and community. Follow on Facebook, Twitter and Instagram @MadeAtUni
About the speakers
Tim Leigh is Marketing Director at Stage One Creative Services Ltd. In the past 20 years, Tim's diverse career has spanned technology, consultancy, marketing and business development with some of the best-known global brands, based both here in the UK and in Europe. His clients have included Coca-Cola, UK Government, BBC, Olympic Organising Committees alongside a wide range of creative agencies, artists and designers. Tim has a BA in Geography from Newcastle University, an MSc in Computing and an MBA from Durham University. He was elected to the Fellowship of the Royal Society of Arts in 2017.
Philip Long is Director of V&A Dundee, responsible since 2011 for the development, opening and now operation of this new international design museum, founded through the partnership of the University of Dundee, Abertay University, Dundee City Council, Scottish Enterprise, and the Victoria & Albert Museum. Throughout his career he has contributed to the development of many arts, education and academic organisations. Previously he was Senior Curator at National Galleries Scotland, with a specialisation in historical and contemporary Scottish and wider British art and design, producing numerous research-based exhibitions and publications. He curated Scotland's presence at the Venice Biennale in 2007 and was responsible for the UK presentation at the Milan Design Triennale in 2015. He is an Honorary Professor of the University of Dundee, an Honorary Research Fellow of St Andrews University, a member of the British Council's Advisory Committee for the Arts and Creative Economy, and a Fellow of the Royal Society of Edinburgh. He studied as an artist.
Omar Shahryar is an award-winning composer, facilitator and peace-maker working for opera companies and arts festivals around the world. His internationally acclaimed opera about young people's reactions to extremism, A Shoe Full of Stars, won the YAM Award Prize for Best Opera for Young People 2018 and was reported on by UK national news programmes. Omar has led participatory music projects for some of the world's leading opera companies and concert halls, including Glyndebourne, Royal Opera, the Wigmore Hall, Britten Sinfonia and Streetwise Opera. He has led artist trainings for the Royal Opera House of Norway and the Royal Opera House of Oman. He is the Artistic Director of Opera Schmopera, an opera company for young people, and a board member for Tête-à-tête Opera Company and the European Network of Opera, Music and Dance Education (RESEO). Omar is finishing his PhD thesis in the Composition of Opera for Young People at the University of York funded by the Arts and Humanities Research Council.
Helen Smith is Professor of Renaissance Literature and Head of the Department of English and Related Literature at the University of York. She is especially interested in how books are made and used, and has been building a replica printing press as part of her research. She is the author of Grossly Material Things: Women and Book Production in Early Modern England (Oxford University Press, 2012), which was awarded the Roland H. Bainton Literature Prize, by the Sixteenth-Century Society and Conference, and the DeLong Book History Prize, awarded by the Society for the History of Authorship, Reading and Publishing. Helen is co-editor of Renaissance Paratexts (Cambridge University Press, 2011; paperback, 2014), The Oxford Handbook of the Bible in Early Modern England, c. 1530-1700 (Oxford University Press, 2015), and Conversions: Gender and Religious Change in Early Modern Europe (Manchester University Press, 2017).
Harriet Swain is Associate Editor of HE for Research Professional, commissioning news and analysis on UK higher education policy. She was deputy books and features editor at The Times Higher Education Supplement, and has freelanced for 15 years for The Guardian's education section. She has a degree in history from Balliol College, University of Oxford, and a journalism diploma from City University London, where she is also a visiting lecturer.
Dr Faye Taylor is Head of Strategic Partnerships at the Association of Commonwealth Universities (ACU). Faye works with Commonwealth governments and international organisations to strengthen the profile and role of higher education in sustainable development. She is responsible for the development of the Commonwealth Scholarship and Fellowship Plan (CSFP), including the Queen Elizabeth Commonwealth Scholarships, an inter-governmental scheme that supports academic mobility between Commonwealth countries. Prior to joining the ACU, Faye worked for University Alliance and Cumberland Lodge, and lectured at King's College London and the University of Nottingham where she also gained her PhD in Medieval European History.
Image credit: Doug James
Partners