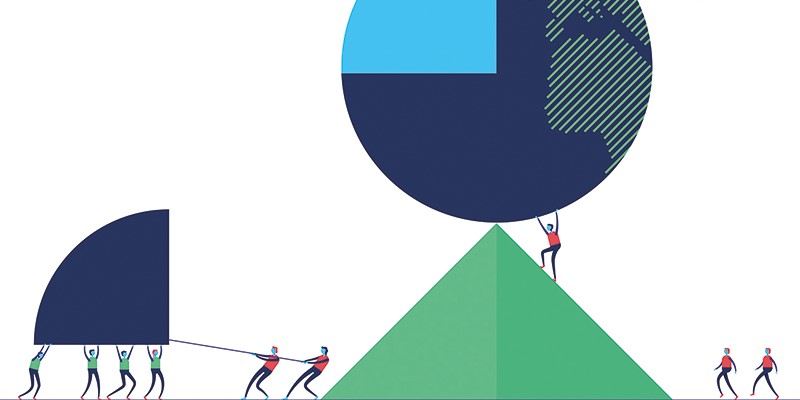 York Festival of Ideas: How does the economy work, who benefits and who loses?
An international line up of speakers will gather in York as part of York Festival of Ideas to discuss how to create a fair economic system that benefits all.
Presented in partnership with the Friends Provident Foundation, the Festival Focus Day, A Fair Economy. A Better World, will investigate perspectives on Economics, showcase some of the trailblazing women shaping the new British economy, and explore the phenomenon of the 'left behind' – people trapped in poverty - who have been adversely affected by the effects of globalisation.
The free event will be held at the Ron Cooke Hub on the University of York campus on Friday 7 June.
Speakers include: David Blanchflower of Dartmouth College, USA, author of Not Working: Where Have All the Good Jobs Gone?; Linda Yueh, author of The Great Economists; Heather Melville OBE, Director and Head of Client Experience at PwC; Jo Swaffield, Head of the University of York's Department of Economics; Martin Sandbu, Economics Commentator at The Financial Times; Rachel Oliver, Head of Campaigns at Positive Money; Zubaida Haque of the Runnymede Trust, who is a Commissioner on the Women's Budget Group (WBG) Commission on a Gender-Equal Economy; and Sarah Marie Hall of the Women's Budget Group.
Danielle Walker Palmour, Director of Friends Provident Foundation, said: "We're delighted to be working with York Festival of Ideas on a Focus Day which centres on engaging people with ideas which have the power to shape an economy that serves society better.
"During the day, we'll look at what lessons we can learn from history and from new ideas today, and we'll hear from some of the women developing new approaches to the economy and monetary policy. We'll also explore whether an unfair economic system and globalisation are responsible for creating a community of the 'left behind' – people who are economically marginalised and insecure - and explore what we can do about that."
York Festival of Ideas runs from 4 June to 16 June and will present over 200 mostly free events under the banner of A World of Wonder. Featuring world-class speakers, exhibitions, theatre, music, films, guided walks, family-friendly activities and more, the programme offers something for all ages and interests.
Now in its ninth year, York Festival of Ideas is led by the University of York, in collaboration with more than 100 partners, and is one of the largest free festivals of its kind in the UK.
This year's Festival begins on 4 June with an evening launch event in partnership with York Minster hosted by distinguished journalist Anne McElvoy. She will introduce Astronomer Royal and bestselling author Martin Rees; award-winning journalist and author Misha Glenny and former Beirut hostage, humanitarian and author Terry Waite.
On the day of the launch, BBC Radio 4's Today Programme will also be broadcast from the University of York in front of a live audience.
Notes to editors:
Throughout the Festival, a number of free Focus Days are dedicated to events on a certain theme. People can come along for one event or stay for the whole day.
The Festival Focus Day A Fair Economy. A Better World is presented in collaboration with the Friends Provident Foundation, an independent charity that makes grants and uses its endowment towards a fair, resilient and sustainable economic system that serves people and planet. It connects, funds, supports and invests in new thinking to shape a future economy that works for all. Visit the Friends Provident Foundation website for more information.
Media Information: Caron Lett 01904 322064
30 May 2019