Writing on the edge

Speakers: Abi Curtis, JT Welsch/span>
Event details
A two-hour workshop, open to all, in which we'll explore the notion of edges: the borders of conscious/unconscious, the shoreline, space, urban/rural, the edges of lands and bodies. Abi Curtis and JT Welsch, writers and lecturers on the York St John Creative Writing programme will facilitate discussion and writing exercises.
Speaker biographies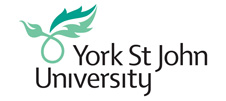 Dr Abi Curtis is a senior lecturer at York St John where she also runs the MAs in Contemporary Literature and Creative Writing. Her second poetry collection, The Glass Delusion, was published by Salt in 2012.
Dr JT Welsch is lecturer in Creative Writing and English Literature at York St John University. He has published three chapbooks of poetry.
Website: www.yorksj.ac.uk/postgraduate/postgraduate-study/courses/arts-literature--performing/creative-writing-ma.aspx
‌