Skip to Content
Accessibility statement
York Festival of Ideas 2014

The York Festival of Ideas will return from 12 - 22 June, exploring ideas of order and chaos.

The full programme will be available in May. Email 'subscribe' to yorkfestivalofideas@york.ac.uk to be one of the first to find out when it's online.
About the festival

Running from 13 to 29 June, the 2013 York Festival of Ideas consisted of over 120 mostly free events with talks from world-class speakers, performances, exhibitions and interactive experiences for people of all ages.

Venues across the city and around the University campus hosted events as part of the festival.
Featured event:
The influence and legacy of women day - 29 June

A focus on the lives of women as novelists, artists, wives and heroines since the 18th century.

The North of England has a strong legacy of female novellists, from the Brontë sisters to Elizabeth Gaskell. The final day of the Festival will play host to a series of talks and debates on the legacy of women in literature, featuring talks from experts and lecturers in the field.

Entrance is free but all events require tickets.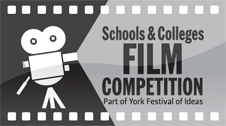 What's on

With over 120 events to choose from across diverse themes ranging from economy and equality to science at the poles, there's bound to be something to inspire you!
---
Festival brochure
Festival blog
Latest tweet
50th anniversary

Last year we celebrated 50 years since the foundation of the University in 1963.

The Festival of Ideas was just one of a number of events taking place throughout the year.