Writing Recklessly

Dr JT Welsch, Dr Abi Curtis, Dr Laura Joyce/span>
Thursday 12 June 2014, 6.30

PM

to 8.30pm

Free admission


Booking required
Book tickets

Quad South Hall and Foyer,

York St John University, Lord Mayor's Walk, YO31 7EX

(map)
Event details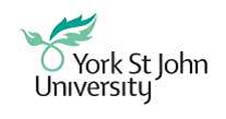 The very idea of 'craft' seems to assume that all writing should be working towards order, or some form of writerly control over the creative forces within and around us. This big, messy workshop with lecturers in Creative Writing from York St John University will question that assumption, and flip the idea of bringing order to chaos on its head.
We'll celebrate the disorder underlying even the best laid plans, using exercises and alternative practices to help bring the energy of an unpredictable world into your work.
Speaker biographies
Dr Abi Curtis was one of the first to gain a PhD in Creative and Critical Writing from the University of Sussex, and went on to teach there until 2010 when she joined YSJU. Her latest poetry collection The Glass Delusion (Salt, 2012) was a winner of the 2013 Somerset Maugham Award.
In 2004 she received an Eric Gregory Award from the Society of Authors for poets under 30, and her first collection, Unexpected Weather, was the winner of Salt Publishing's inaugural Crashaw Prize and was shortlisted for the London Festival Fringe Poetry Award 2010.
Abi's work often engages with other disciplines, such as visual art, science and history: a recent project was the result of collaboration with the Darwin Centre at the Natural History Museum. As well as writing poetry, Abi writes fiction and has an interest in psychoanalysis. Her writing explores such topics as mushrooms in Freud; the power of the squid in literature; and the relationship between poetry and ventriloquism. She has also written on the role of the unconscious in the teaching of creative writing.
Dr JT Welsch has published two chapbooks of poetry, Orchids and Waterloo. His collection, Rejections of Marriage, was shortlisted for the 2011 Crashaw Prize. His plays and screenplays have been produced at Manchester's Martin Harris Centre, the Manchester Library Theatre, and the London Film School. His research focuses on subjectivity, gender, and early 20th-Century writing, particularly William Carlos Williams, TS Eliot, and James Joyce.
Naomi Booth teaches on the following modules at the UYSJ: Forms of Narrative; Working with Words; Creative Writing; Gender, Sexualities and Contemporary Culture; MA in Creative Writing.
She holds a BA Hons (First Class) in English from the University of Cambridge; an MA (Distinction) in Publishing; and an MA (Distinction) in Critical Theory and Creative Writing from the University of Sussex. She is a PhD candidate at Sussex, where she previously taught on undergraduate and postgraduate programmes in the School of English.
Dr Laura Joyce is a Lecturer in Literature and Creative Writing. She has previously taught on modules in Literature and Film at the University of Sussex. She studied Classics at Manchester University; Creative Writing at the Centre for New Writing; and Creative and Critical Writing at Sussex University. She is working on a monograph entitled Plastic Texts: Theory and Practice which has come out of research for her thesis on radical 21st-century literature. She is also working on a feminist guide to horror and extreme cinema. Her first novel The Museum of Atheism was published in 2012 by Salt and her novella The Luminol Reels will be published by Calamari Press in 2014.
Accessibility

Wheelchair accessible