Traces of Sound and Light

Annabeth Robinson and Jez Wells/span>
Event details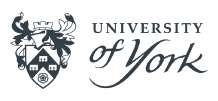 Join us to see St Margaret's Church through the curious minds of digital artist Annabeth Robinson and audio designer Jez Wells. Explore this medieval building which has transformed over the centuries from a sacred space to an award-winning music venue. You'll virtually move around in the space and hear in slow motion and shifting detail how it responds to sounds made within it.
7pm to 7.15pm Delma Tomlin, Director of the National Centre for Early Music, will be 'in conversation' with the artists.
7.30pm to 9pm Sound and digital art installation.
This event is presented by the University of York and Leeds College of Art with thanks to AOC Archaeology and Vespertine.
About the speakers
Annabeth Robinson is an electronic artist and filmmaker, predominantly using virtual worlds and game technology since 2005, to explore multi-user interactive artworks and immersive experiences. She is a Senior Lecturer at the Leeds College of Art where her current research interests are motion capture, augmented and mixed reality, and serious games for education. Her work has been shown internationally including: ISEA Singapore 2008 and Belfast 2009 as part of Kritical Projects. Her recent collaboration with University of Leeds, School of Earth and Environment, won the Times Higher Education Award for Outstanding Innovation in Digital Teaching and Research, 2016.
Dr Jez Wells is a lecturer with the University of York's Department of Music and the director of its Music Production, Processing and Analysis research group. Both his teaching and research include studio recording techniques as well as audio processing and modelling. He recently completed a year-long Ingenious public engagement fellowship with the Royal Academy of Engineering. His most recent research activity has focused on the development of the reverberation modelling system used for this event. He also works as a sound recordist and editor as well as undertaking consultancy work.