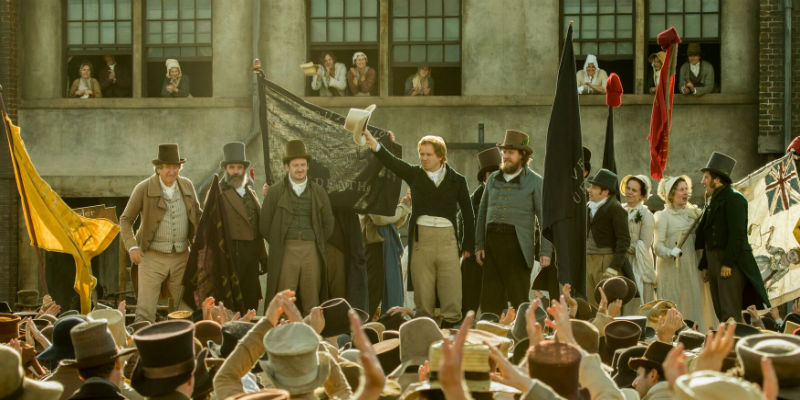 Festival Film Screening: Peterloo
Date and time:

Sunday 9 June 2019, 12.30pm to 3.30pm

Location:

Piazza Building, Campus East, University of York (Map)

Audience:

Open to the public

Admission:

Free admission, booking required
Event details
Join us for a special Festival screening of Mike Leigh's epic film Peterloo.
Written and directed by the internationally-acclaimed and Oscar-nominated filmmaker, Peterloo depicts the events surrounding one of the defining moments in British democracy, the 1819 Peterloo Massacre.
Starring Rory Kinnear and Maxine Peake, the film provides a passionate and gritty account of the murder of peaceful protestors who had gathered in the name of liberty and freedom at a rally at St Peter's Field in Manchester. Government-backed cavalry charged into the crowd of at least 60,000, killing 18 people and injuring hundreds more.
Tragic as they were, the events of 16 August 1819 gave fresh impetus to the radicals and reformers working to improve conditions for the working classes.
PG-13; running time 2 hours 34 mins.
Why not join us for Peterloo: Mike Leigh in conversation and find out about the making of the film? You may also enjoy Beer and Ballads on Wednesday 5 June when we recreate the convivial atmosphere of the radical meetings of the early 19th centry.
Centre for Eighteenth Century Studies, University of York
In the 15 years since its foundation, the Centre for Eighteenth Century Studies has come to be recognised as a leading centre in the English-speaking world for interdisciplinary research in the eighteenth century. Its research seminars, held five or six times a term, attract visiting speakers from Europe and North America as well as from Britain, as do its frequent international conferences and one-day symposia. Blog: cecscoffeehouse.wordpress.com/; Twitter: twitter.com/CECSYork
Partners