Jacobean comedy workshop (schools)
Speaker: Tom Wright, freelance director and Comedy Outreach Officer, Department of Theatre, Film and Television
To coincide with The Dutch Courtesan, theatre director Tom Wright explores the challenges of staging Jacobean comedy in this fun and practical workshop. Tom will use techniques drawing from mask, clowning and commedia del arte to explore the skills needed to play a trickster on stage.
Speaker biography
Tom Wright is an award-winning UK-based theatre director whose work ranges from the Fringe First-award-winning The Container to operas in Selfridges. He is Associate Director of Freedom Studios, Bradford.
Website: www.dutchcourtesan.co.uk/foi
Times by arrangement, contact Ollie Jones, 01904 325242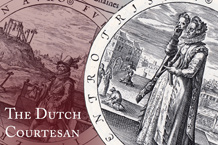 You may also like...