The Dutch Courtesan
20-22 June, 7.30pm, Department of Theatre, Film and Television Scenic Stage Theatre, University of York
One of the greatest Jacobean comedies, John Marston's masterpiece weaves together tales of sexual obsession, clever con-tricks, and radical freethinking into a striking plot which leads two of its characters to the foot of the gallows.
Admission: £7, £5 students and concessions, 10 tickets for the price of 9. See website for booking details.
Email: oliver.jones@york.ac.uk
Website: www.dutchcourtesan.co.uk/booking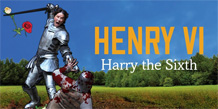 ‌
You may also like...