Renaissance Reincarnations on the Page

With Catherine Fletcher, Germaine Greer, Pamela Hartshome and Robert Hutchinson/span>
Saturday 15 June 2013, 1.30

PM

to 6.30pm

Free admission


Booking required, see below for tickets

St William's College

(view map)
Event details
This event explores how Renaissance afterlives are created in Historical Fiction and Biography
Open to all, 'Renaissance Reincarnations on the Page' on Saturday, 15 June at St William's College, offers a chance to hear Germaine Greer and Robert Hutchinson as they discuss the process of re-creating early modern personalities for a modern audience.
An archaeologist, historian, and author of many fine books, Robert Hutchinson, will be specifically talking about his recent biographies of Thomas Cromwell and Sir Francis Walsingham, and sharing his thoughts on the process of writing afterlives for personalities who have already acquired significant cultural capital. He will be interviewed by Catherine Fletcher whose own book, Our Man in Rome, focuses on the Tudor court and its mercurial personalities.
An academic, journalist, and author, Germaine Greer is one of the best known feminist voices since her much-debated book, The Female Eunuch was published in 1970. She will be talking about her famous biography of Shakespeare's wife, Anne Hathaway – a woman completely overshadowed by her husband until Greer came to her rescue. Her talk will be followed by an opportunity to ask questions about her work and her process.
There will also be the opportunity to take part in a workshop on writing commercial historical fiction. The workshop will be led by popular author, Pamela Hartshorne who (as Jessica Hart) has written 60 books for Mills & Boon and whose romances have sold more than 14.5 million copies around the world. Time's Echo, her first novel based on Elizabethan York was published in 2012 and has been shortlisted for two prestigious awards. Pamela's workshop will provide a glimpse into the practical process of a writer as he/she negotiates with the challenge of crafting modern lives for early modern persons.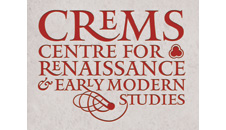 The event organised by Dr Varsha Panjwani, from the University of York's Department of Theatre, Film and Television, and Dr Chloe Preedy, from the University of Cambridge's Faculty of English, is part of a wider ongoing project exploring the practical processes involved in re-imagining early modern lives for 20th and 21st-century readers and spectators.
Admission: Free, ticketed. The event is free but places are limited and pre-booking is essential. Email renaissance.reincarnations@gmail.com to book.