Apocalypse and Ruin
Event details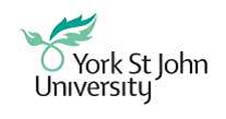 'Apocalypse' is a major new work for choir and soloists by David Lancaster, depicting the end of the world as told by medieval stained glass windows in York.
On a similar theme, Dr Ralph Bateman's 'Ruins', which the composer describes as 'reflections on decay and destruction', will offer another vivid portrayal of chaos.
'Techno Mass' by Dr Robert Wilsmore will hopefully offer a more positive, ordered vision using sampling techniques from dance music to bring together minimalism, simplicity and popular music.
This exiting choral concert brings together new music by three composers who are all staff members in the Faculty of Arts at York St John University.
Speaker biographies
David Lancaster is head of the Music Programme at York St John University. His music has been played at most of the major venues and festivals in the UK, by such ensembles as the Kronos String Quartet, Electric Phoenix and Black Dyke Band. His music has been used for theatre and television but in recent years he has written extensively for voices, brass and composing for dance. He draws upon many sources for his work, including popular styles from around the world but counts Harrison Birtwistle and Stravinsky amongst his strongest influences. David has won many awards for his work, including the Michael Tippett prize and the LCM Centenary Award for 'Insula Dulcamara'.
Dr Robert Wilsmore is Associate Dean at York St John University. He is subject manager for Performance in the Faculty of Arts at York St John University which includes Dance, Fine Arts, Music and Theatre. His Doctoral studies were in music composition (with Nick Sackman at the University of Nottingham graduating in 1994). Since then his practice has been a mix of composition and interdisciplinary collaboration. He is currently researching the Pedagogy of Collaboration through a PALATINE project with Liz Dobson (Huddersfield) and Christophe Alix (Hull-Scarborough). His is also joint authoring a chapter on Kraftwerk with his long term collaborator Simon Piasecki and writing a short article on prog rock classics 'Yes' for Parallax (edited by Gary Peters). Recent performance works include 'The Knowledge of Whitby Steps' with Simon Piasecki and 'The Music is Hiding' a composition for performance at electroacoustic concerts that is a description of itself.
Dr Ralph Bateman is Head of Programme Music at York St John University. Ralph studied music, specialising in composition, at the University of Nottingham and at King's College, London (with Nicola LeFanu). He is recently completed a PhD in composition at the University of York (with Roger Marsh). He also studied singing with Pamela Cooke and Derek Hammond-Stroud, gaining an LRAM in the teaching of singing. As well as singing, he also plays piano, harpsichord, organ, violin, viola and ukulele. For several years he freelanced as a lecturer in London (working for Birkbeck College, the University of London, Morley College, the St Nicholas Montessori Training centre and the WEA) and later in Yorkshire (for the Universities of Leeds, Bradford and Hull, the WEA and Ripon and York St John. He has taught music in a wide variety of institutions, from kindergartens to universities both here and abroad. He has also been employed in several non-educational musical environments, including music journalism, harpsichord manufacture and playing piano in ballet schools. He provided the index to the complete edition of George Bernard Shaw's writings on music.
His compositions include works commissioned for the Nottingham Festival and the Academy of St Olaves Orchestra (among others) and performances of recent works have been in York, London, Munich and Ludwigsburg. 8 TRIGRAMS AND A FINALE for Chinese Percussion and Piano was given its first performance at the Shanghai Conservatory of Music on 28 September 2010.
He has worked as a conductor with several choirs and contemporary music groups, and recently conducted 400 singers in a performance of Tallis's 40-part motet in York Minster at the climax of the 2009 Church Universities and Colleges Choir Festival.
Accessibility

Wheelchair accessible