What's New with the Vikings?

Dr Steve Ashby, Lecturer in Archaeology, University of York/span>

Wheelchair accessible
Event details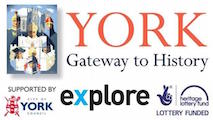 This talk will present recent research on the Vikings in England, Scotland, and Scandinavia, undertaken by researchers at the University of York. Come and find out about Viking camps, forts, and war cemeteries; about trade, commerce, and migration. Presented by Dr Steve Ashby, Lecturer in Archaeology at the University of York, soon to be seen 'Behind the Scenes' of TV's Vikings Drama.
Speaker biography
Steve Ashby BSc (Birmingham), MSc PhD (York) is a medieval archaeologist with specialism in the archaeology of portable material culture and the use of animal products in craft and industry. He is particularly interested in the relationship between the various regions of Britain and Scandinavia before, during, and after the Viking Age.
Before starting up at York, Steve was employed by the Portable Antiquities Scheme, as Finds Liaison Officer for Northamptonshire, a role that involved working closely with local communities, amateur archaeologists, and metal detectorists in order to preserve by record the vast numbers of chance finds recovered by members of the public. Steve continues his association with the PAS, and is interested in exploiting the potential of the data it produces, particularly regarding early medieval craft, trade, and identity, and battlefield archaeology.
Additional links
Follow City of York Archive on Twitter.