Story Zone: Voices in the University

Interactive Display/span>
Event details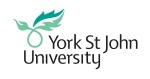 The Story Zone shares tales of the role that York St John University has played in the life of the city over the past 175 years. An interactive display based on interviews and research by a team of historians, the Story Zone includes anecdotes and narratives from residents, alumni, staff and students. It also offers information charting York St John's development from a Victorian-era Institution for School Masters to a fully-fledged independent 21st-century university.
Whether you have connections to the university or are just curious, these stories will offer you new perspectives on this old institution. You will hear people recount their experiences of York St John and give their thoughts on how it has helped shape the local community.
Come along to hear some of the stories, speak to the researchers, or take your place in the Story Zone chair and share your experiences of York St John.
For more information about our oral history project, please visit our website https://yorkstjohnvoices.wordpress.com/
Follow us on Twitter @YSJVoices