The York Historical Atlas Explained

Peter Addyman/span>
Saturday 18 June 2016, 10.00

AM

to 12 noon
£4 for non-members of Fishergate, Fulford & Heslington Local History Society.
Book tickets

St Oswalds Church Hall

(map)
Wheelchair accessible
Event details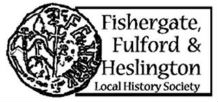 The York Historic Towns Atlas is based on the remarkably detailed 1852 Ordnance Survey map of York and traces the history of the city from its Roman origins to the 21st century. Join its editor Peter Addyman as he describes working with a group of expert colleagues to create the Atlas and explains its significance to our understanding of the city today.
The Atlas has 11 maps, period by period, bringing together topographical, archaeological, historical and cartographic evidence to present a clear picture of what is known of the city through time.
In addition, nine sheets of plates present numerous illustrations, including the earliest medieval images of York, reproductions of early maps and plans, views of the city and its buildings, and the latest aerial records. A substantial scholarly gazetteer explains every name on the maps, ancient or modern, and for each period there is an introductory essay by the specialist contributing authors: Patrick Ottaway (Roman York), Richard Hall and Ailsa Mainman (Anglian York; Anglo-Scandinavian York), David Palliser and Sarah Rees-Jones (York 1066-1272 and 1272-1536), and William Sheils (York 1536-1840 and York since 1840). A delight for everyone interested in the historical development of York.
About the speaker
Dr Peter Addyman, C.B.E., F.S.A., was Director of York Archaeological Trust for 30 years until his retirement in 2002. He is currently President of York Civic Trust. For much of his retirement, Peter has been working with a team of academic colleagues to produce the York volume of the international Atlas of Historic Towns.
Fishergate, Fulford & Heslington Local History Society
For more information on the Fishergate, Fulford & Heslington Local History Society visit their website.