Carmina Burana

York Musical Society /span>
Saturday 11 June 2016, 7.30

PM

to 10:00pm
0844 854 2757 Tickets £5–£25
Book tickets

York Barbican

(map)
Wheelchair Accessible
Event details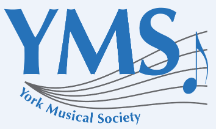 For their première at York Barbican, the 160-strong choir of York Musical Society perform Carl Orff's Carmina Burana, one of the most popular choral works. The songs tell of the fickleness of fortune and wealth, the nature of life, and the joys of drinking, gluttony, gambling and lust. Much of the work is based on the turning Wheel of Fortune, and it begins and ends with the exciting O Fortuna, familiar from adverts, films and TV clips. The songs were originally based on 24 medieval poems discovered in Bavaria in 1803, and they are sung in Latin, German and medieval French.
To complement this work, there will be two popular pieces by Brahms. His beautiful Sacred Song, Geistliches Lied, shows amazing virtuosity in the double canon writing. The light-hearted Gypsy Songs, Zigeunerlieder, for four soloists, will complete the programme.
York Musical Society
Conducted by David Pipe, York Musical Society draws its members from towns and villages around the region. The four soloists are soprano Kirsty Hopkins, mezzo-soprano Kate Symonds-Joy, tenor Greg Tassell and baritone Njabulo Madlala. Accompanying will be two pianists, Polly Sharpe and Nico de Villiers, and a team of six percussionists.
For more information visit the York Musical Society website.