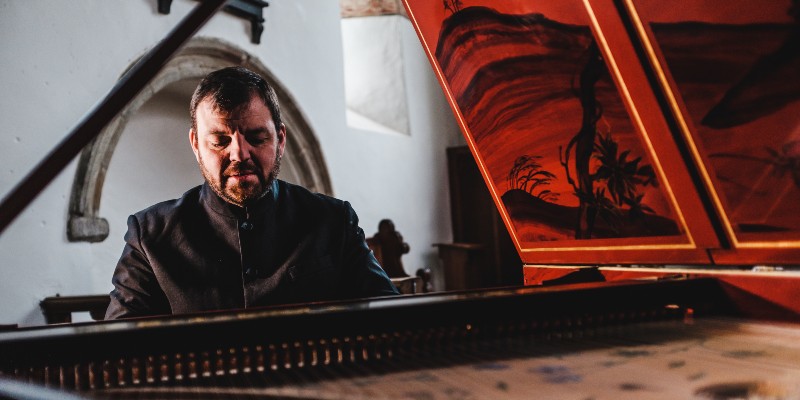 Bach Bites Steven Devine
Performance
This event has now finished.
Date and time:

Wednesday 10 June 2020, 6pm to 6.10pm

Location:

Online event

Audience:

Open to alumni, staff, students, the public

Admission:

Free admission, booking not required
Event details
Steven Devine - Harpsichord
Prelude & Fugue no 8 from JS Bach's The Well-Tempered Clavier Book I
Enjoy some music in the sunshine as the National Centre for Early Music presents a live Facebook stream @yorkearlymusic featuring harpsichordist Steven Devine.
The event is part of NCEM's weekly Bach Bites concert series with @devinemusicman which runs on Wednesdays at 6pm until 24 June.
Live Stream from the NCEM Facebook @yorkearlymusic. Help keep the music alive - donate at ncem.co.uk/donate
About the performer
Steven Devine enjoys a busy career as a music director and keyboard player working with some of the finest musicians. He is the Principal Keyboard Player with the Orchestra of the Age of Enlightenment and also the principal keyboard player for The Gonzaga Band, Classical Opera (The Mozartists) and performs regularly with many other groups around Europe. He has recorded over 30 discs with other artists and ensembles and made six solo recordings. His recording of Bach's Goldberg Variations (Chandos Records) has been received critical acclaim – including Gramophone magazine describing it as "among the best". The complete harpsichord works of Rameau (Resonus) has received five-star reviews from BBC Music Magazine and Steven's latest recording of Bach's Italian Concerto has been voted Classic FM's Connoisseur's choice. Steven has recently released Book 1 of Bach's Well-Tempered Clavier ("it's the one of all I've heard in the past ten years that I am happiest to live with." Early Music Review), with Book 2 being released at the start of 2020. Find out more at stevendevine.com
Partners