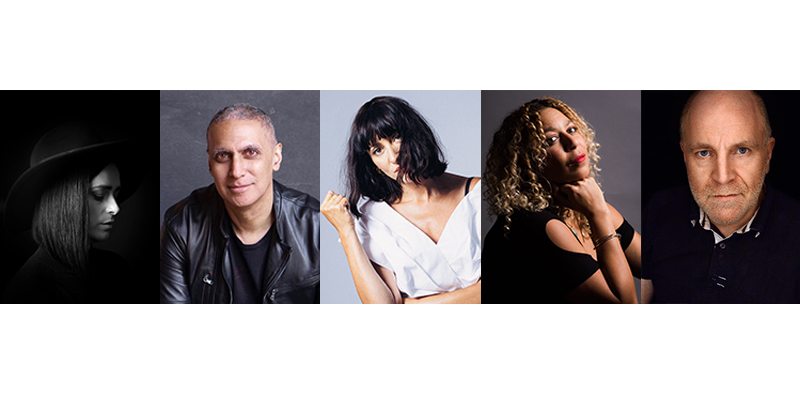 Between Worlds: Exploring space and sound Lauren Bowker, Salena Godden, Mark McCaughrean, Anna Phoebe and Nitin Sawhney
Talk
This event has now finished.
Date and time:

Sunday 14 June 2020, 1pm to 2pm

Audience:

Open to alumni, staff, students, the public

Admission:

Free admission, booking required
Event details
Missed this event? Watch the conversations and performances on Youtube.
Do you ever feel dizzy when you think about the incomprehensible scale of space? We call that feeling Cosmic Vertigo. Join us to explore how music, poetry and design can help us to experience the unfathomable.
Discover how space has inspired art and culture as we welcome performances and discussion from Nitin Sawhney (Composer and Producer), Anna Phoebe (Composer), Mark McCaughrean (Senior Advisor for Science and Exploration at the European Space Agency), Salena Godden (Poet and Activist) and Lauren Bowker (Artist, Alchemist and Inventor).
From a jacket that changes colour depending on the atmospheric surroundings to moving music that takes us beyond our own stratosphere, prepare to have your mind-blown from the comfort of your own home.
About the speakers
Lauren Bowker: "I believe Magick is just science we don't understand yet..." Material alchemist, science editor-at-large for Dazed and internationally celebrated creative leader, Lauren founded T H E U N S E E N in 2014. Since then, she has taken her revolutionary colour-change compounds to the epicentre of fashion, industry and society, collaborating with a variety of high-profile global brands and organisations. Her work has been exhibited worldwide and inspired material innovation and user experience in the automotive, aeronautics, technology, healthcare, retail, textiles and couture sectors. In February 2017, she released F I R E, the world's first colour-change hair dye, receiving more than 70m views online hours after launch. As T H E U N S E E N, Lauren is a self-styled pioneer of Magick, simultaneously informed by the distant past while exploring the near future.
Salena Godden is a poet, author, activist, broadcaster, essayist and memoirist whose work has been widely anthologised. She has had several volumes of poetry published including most recently Pessimism is for Lightweights (Rough Trade Books) and a literary childhood memoir, Springfield Road (Unbound). Her poem Pessimism is for Lightweights was donated to The Peoples History Museum, Manchester, where it is now on permanent display - The work was unveiled in February 2020 to mark the museum's 10th birthday. Salena has recorded several albums, most recently her spoken-word album LIVEwire (Nymphs and Thugs) which was shortlisted for the Ted Hughes Award in 2017. Canongate pre-empted world rights to her debut novel Mrs Death Misses Death, described by the publisher as an "electrifying genre- and form-defying firestarter." and by Alan Moore "as profound as Cohen and playful as Brautigan." This debut will be published in January 2021.
Professor Mark McCaughrean is the Senior Advisor for Science and Exploration at the European Space Agency. He is also responsible for communicating results from ESA's astronomy, heliophysics, planetary, and exploration missions to the scientific community and wider public. After studying at the University of Edinburgh, he worked at the NASA Goddard Space Flight Center, astronomical institutes in Tucson, Heidelberg, Bonn, and Potsdam, and the University of Exeter before joining ESA in 2009. His scientific research focuses on the formation of stars and their planetary systems, and he is also an Interdisciplinary Scientist for the NASA/ESA/CSA James Webb Space Telescope.
Mark is co-founder of Space Rocks, which celebrates space exploration and the art, music and culture it inspires through public events and more.
Anna Phoebe is a composer on cross-genre collaborative projects, working with science, poetry, dance and art. Between Worlds is an ongoing project communicating science through music. She is currently collaborating with the European Space Agency, writing a musical response to their Earth Observation data, tracking climate crisis. She has previously worked with Cancer and Alzheimer's research at the University of Kent, writing a 40-minute choral/ensemble work, which premiered in 2019. Anna won Best Composer at the Underwire 2019 Film Festival for her score for short film 'Belittled'. She is currently scoring soundscapes set to 'England Poems from a School' - poetry written by refugee children living in the UK, working with Lorraine Ashbourne and Andy Serkis.
As a performer Anna Phoebe has toured concert venues, arenas and festivals throughout the world, both as a solo artist and with multi-platinum selling bands including Roxy Music and Jethro Tull. Her band supported Bob Dylan at the Rock Legends Festival in Poland. Anna's instrumental duo AVAWaves released their debut album Waves in 2019 on One Little Indian Records. She is also currently touring and recording with Ivor Novello Lifetime Achievement recipient, Nitin Sawhney CBE.
Nitin Sawhney CBE, recipient of the Ivor Novello 2017 Lifetime Achievement award, is one of the UK's most distinctive and versatile musical voices. Sawhney has written and recorded multiple albums, soundtracks/ compilations, encompassing over 60 film/ TV scores and is established as a world-class producer, songwriter, touring artist, radio/ club DJ, multi-instrumentalist, theatrical, dance, videogame and orchestral composer and cultural/ political commentator. He holds six honorary doctorates, two fellowships from various UK universities and is Ambassador for/sits on the board of multiple charities. He has received over 20 major international awards and is a member of the academy of motion picture arts and sciences, BAFTA and the US recording academy. His interest in science and maths has led to work with Brian Cox and Chris Packham, various international TEDx talks on music, physics and maths, and appearances/ collaborations with LHC at CERN, SLAC and JPL.