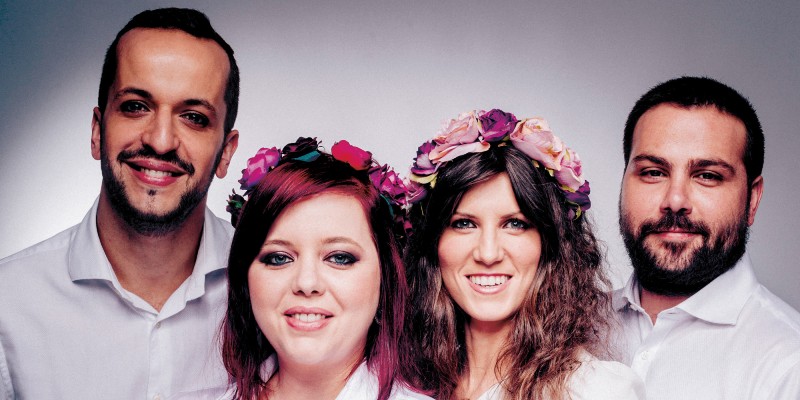 Fieri Consort and L'Apothéose
Performance
This event has now finished.
Date and time:

Saturday 13 June 2020, 1pm to 2pm

Location:

Online event

Audience:

Open to alumni, staff, students, the public

Admission:

Free admission, booking not required
Event details
Enjoy music by exceptional young artists as the National Centre for Early Music presents a medley of concerts featuring UK-based vocal group Fieri Consort and Spanish instrumental ensemble, L'Apothéose.
Filmed at the York Early Music International Young Artists Competition at the NCEM in 2017 and 2019, the concerts are presented as a live Facebook stream.
The livestream is part of a series of events each Saturday, with the NCEM sharing archive material focusing on brilliant young professionals from across Europe.
Fieri Consort:
O sonno - Cipriano de Rore
Zefiro torna e'l bel tempo rimena - Luca Marenzio
Giunto alla tomba - Giaches de Wert
All ye whom love and fortune - John Dowland
What is our life? - Orlando Gibbons
Sempre mi ride - Adrian Willaert
L'Apothéose:
Trio Sonata in G minor, op. 14 no. 4 - Carl Philipp Stamitz
(from Six trios a une flute ou deux violons et violoncello obligé, c.1780)
Quatuor no. 6 in E minor, TWV 43:e4 - Georg Philipp Telemann
(from Nouveaux quatuors en six suites, 1738)
Live Stream from the NCEM Facebook @yorkearlymusic.
Help keep the music alive - donate at ncem.co.uk/donate
About the performers
Fieri Consort
Lucy Cox, Hannah Ely sopranos
Nancy Cole, Helen Charlston mezzo-sopranos
Tom Kelly, Josh Cooter tenors
David Maguire, Ben McKee basses
Founded in 2012, Fieri Consort is one of the UK's most exciting vocal groups, offering a unique blend of technical precision and theatrical innovation. Performing without a conductor, Fieri presents innovative and engaging programmes, and specialises in the rich and varied tradition of 16th and 17th century Italian repertoire. Performing a cappella, accompanied by early instruments, with guests and even with members of their audiences, Fieri's interpretations are informed by the collective experience and knowledge of the group.
L'Apothéose
Laura Quesada flute
Víctor Martínez violin
Carla Sanfélix cello
Asís Márquez harpsichord
L'Apothéose was born in December 2015 to be a space of celebration, reflection and experimentation for its members. From its beginnings, the players wanted to take historical interpretation to the highest level, combining their knowledge to convey to the listener the emotional content and rhetoric of each composer. L'Apothéose has performed at many Spanish and European festivals, and was the winner of the York Early Music International Young Artists Competition at the NCEM in 2019.
Partners