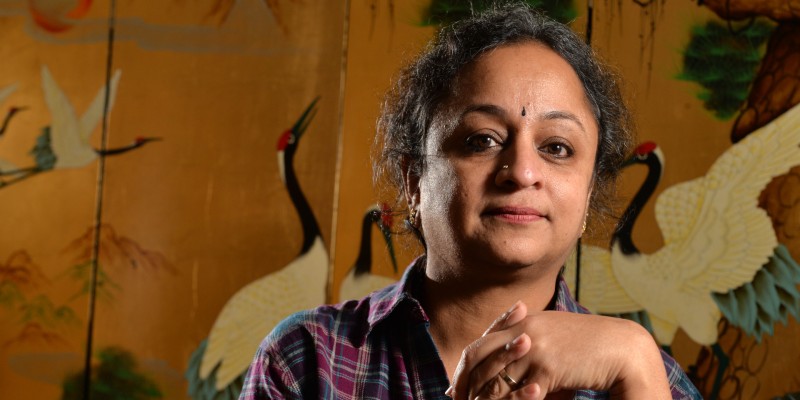 Frangipani Nights Manasamitra
Performance
This event has now finished.
Date and time:

Wednesday 10 June 2020, 7pm to 7.30pm

Location:

Online event

Audience:

Open to alumni, staff, students, the public

Admission:

Free admission, booking required
Event details
Missed this event? Watch the performance on Youtube.
Manasamitra presents Frangipani Nights, an evocative piece set in a sultry summer night in India.
Bringing together electronic music and voice using chants and syllables, the piece has been inspired by the sights, smells and sounds of India where Manasamitra toured in January 2019. From the colourful deserts of Jaipur to the coastal temples of Mahabalipuram in Chennai the fragrant Frangipani bloom is the focus of this multi-genre music piece.
Supriya Nagarajan (composer/vocalist)
Duncan Chapman (live electronics)
Look out for Manasamitra's Sound of Tea coming to the National Centre of Early Music in June 2021.
About the performers
Supriya Nagarajan's projects include Frangipani Nights, a confluence of Carnatic and electronic music presented at the Jaipur Literature Festival, performed with Duncan Chapman; Lullaby Sonic Cradle, a contemporary musical exploration of night-time sounds interspersed with lullabies from India and audio recordings gathered from communities across the UK, Europe and Australia; Bollywood Jazz, a new Indo-Jazz music fusion inspired by the songs and instrumental music of Bollywood films, which culminated in a UK tour in 2018-19; Shivoham, a unique musical experience rooted in India with a contemplative nature and universal narrative, which toured in 2015, with Ben Castle and Shri Sriram.
Supriya worked with the Iceland Symphony Orchestra, taking lullabies to schools across Reykjavik and was commissioned to create two pieces of music for the orchestra's ongoing repertoire. An ongoing relationship with the Huddersfield Contemporary Music Festival has resulted in several community-focused projects, including The Life of a Bee, an early-years piece using music, dance, theatre and crafts. In 2018 she was commissioned by the festival to create Pleiades Ne Maia; the world premiere took place as a part of the Canopy of Voices choir project and was played on BBC 3 and 6. Supriya is passionate about empowering young and emerging artists and is currently working with emerging composers to develop original work for performance
Duncan Chapman is a composer and sound artist who regularly works with many leading music organisations throughout the world. Recent projects include work at Casa da Musica (Porto), a large scale orchestral piece titled But where do we get the water? (London Chamber Orchestra) for orchestra, young players / laptop ensemble; directing the Fanfare project for young composers (Royal Opera House) and schools projects with the Orchestra of the Age of Enlightenment.
Performances with Supriya Nagarajan (Manasamitra) include Lullabies projects at the Ultima Festival (Oslo); the Kamppi "Chapel of Silence" (Helsinki), Harpa Concert Hall (Reykjavik), Casa da Musica (Porto) and a 2019 tour of the UK and Australia. Current projects include solo pieces/performances exploring drone and field recordings, curating concerts for the Aural Diversity project, performances (as 'Quiet Knot') for Shakuhachi and live electronics with Mike McInerney and directing projects for the Britten Sinfonia, Sound Festival and West Sussex Music. A long term ongoing project in Glasgow (for Articulate Cultural Trust) was featured on Radio 4 and 3 Late Junction in 2019. He is in receipt of an Arts Council 'Developing Your Creative Practice' award which includes research composition into multichannel drone composition in the UK and at EMS in Stockholm. Projects in the first half of 2020 include a duo performance (with Supriya Nagarajan) at the Jaipur Literature Festival. Solo work has been released on the Linear Obsessional and Silent Records labels.
Partners