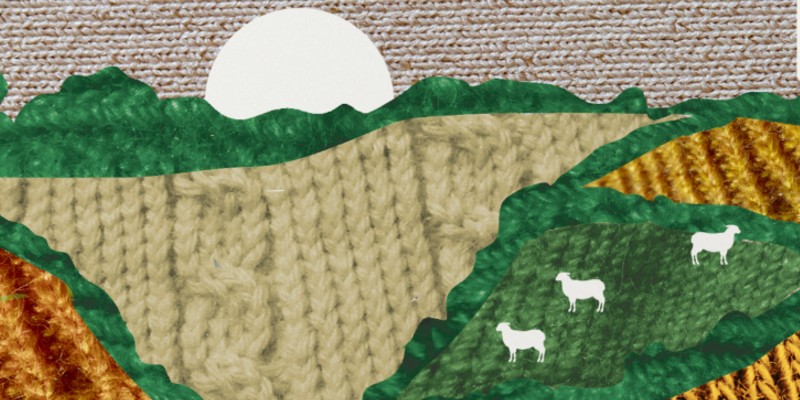 This Golden Fleece Esther Rutter
Talk
This event has now finished.
Date and time:

Thursday 11 June 2020, 6pm to 7pm

Location:

Online event

Audience:

Open to alumni, staff, students, the public

Admission:

Free admission, booking required
Event details
Missed this event? Watch the talk on Youtube (available until 11 July 2020).
Take a journey through Britain's knitted history with author Esther Rutter.
Over the course of a year, Esther - who grew up on a sheep farm in Suffolk, and learned to spin, weave and knit as a child - travelled the length of the British Isles, to tell the story of wool's long history here.
She unearthed fascinating histories of communities whose lives were shaped by wool, from the mill workers of the Border countries, to the English market towns built on profits of the wool trade, and the Highland communities cleared for sheep farming. She also found tradition and innovation intermingling in today's knitwear industries.
Join Esther, author of This Golden Fleece, as she discusses the craft and history of knitting, and explores wool's influence on our landscape, history and culture.
Missed this event? Watch the talk on Youtube (available until 11 July 2020).
About the speaker
Esther Rutter is Writer in Residence at the University of St. Andrews (2017-2020) in the School of Geography and Sustainable Development. She also works as a freelance Project Manager for UNESCO, developing cultural engagement projects in collaboration with Edinburgh's City of Literature Trust. Esther read English at Oxford University's Magdalen College and is the author of This Golden Fleece (Granta Books).
Book sales
You can buy copies of many of our speakers' books from Fox Lane Books, a local independent bookseller and Festival partner. In some cases, author signed bookplates are available too.